when god lets my body be - (2004)

E. E. Cummings
originally conceived for tenor or baritone and piano
---
when god lets my body be

From each brave eye shall sprout a tree....
(for the remainder of this text, please consult any one of the many printed and electronic sources)

"when gods let my body be" was originally published as "IV" in The Dial, Vol. 68, No. 1 (Jan. 1920),
New York: The Dial Publishing Company, Inc., Editor: Scofield Thayer,
and subsequently republished in "Songs," in Tulips and Chimneys (1923),
and several subsequent editions of Complete Poems
[ 5 pages, circa 4' 00" ]
---

E. E. Cummings
The setting is simple, with broad arpeggios supporting a two or three measure period for each textual phrase. There is a stillness to this, excepting the bright arpeggios which convey the "strenuous birds" by which one's spirit may again show itself, as one's will be "with the bulge and nuzzle of the sea."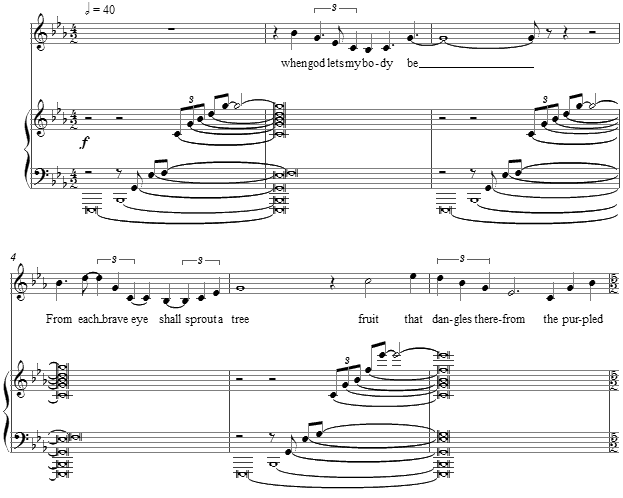 The image of reaching out from "beneath the snow" as birds in flight is made through a rhapsodic gesture, before returning to the broad arpeggios.
I add again at the end, by way of reprise, the first line "when god lets my body be," for this is a optimistic prayer, a positive utterance, a thought towards tomorrow, and not a "dernier cri" for this day.

vocal range for low, medium and high editions
The score for when god lets my body be is newly engraved and edited according to the text published in 1920 as found at the University of Virginia Library's Electronic Text Center, and is available in three keys for low, medium and high voices as a free PDF download, though any major commercial performance or recording of the work is prohibited without prior arrangement with the composer. Click on the graphic below for this piano-vocal score.