What Lips My Lips Have Kissed - (1991)

Edna St. Vincent Millay
for mezzo soprano and piano
---
to the memory of Larry Stayer,
of the Young Artists Program of the Metropolitan Opera

What lips my lips have kissed, and where, and why,
I have forgotten, and what arms have lain
Under my head till morning; but the rain
Is full of ghosts tonight, that tap and sigh
Upon the glass and listen for reply;
And in my heart there stirs a quiet pain
For unremembered lads that not again
Will turn to me at midnight with a cry.
Thus in the winter stands a lonely tree,
Nor knows what birds have vanished one by one,
Yet know its boughs more silent than before:
I cannot say what loves have come and gone;
I only know that summer sang in me
A little while, that in me sings no more.
The complete title is "What Lips My Lips Have Kissed, And Where, And Why"
(Sonnet XLIII), from Collected Poems by Edna St. Vincent Millay
[ 4 pages, circa 3' 10" ]
---

Edna St. Vincent Millay
Edna St. Vincent Millay (1892 - 1951) was an American poet and dramatist. Her first book, Renascence and Other Poems was characterized by an independent temperament and romantic vision of life. Her oft-quoted line, "My candle burns at both ends, it will not last the night," is drawn from a poem in A Few Figs from Thistles (1920), and a following anthology, Second April (1921), made her well recognized as a major poet. The Harp Weaver was published in 1923, and was followed by the libretto for Deems Taylor's opera, The King's Henchman, premiered at the Metropolitan Opera in 1927.
Larry Stayer led the Young Artists Program at the Metropolitan Opera, and was kind and helpful to me at the outset of my career as a singer, though most assuredly I was not beginning as a "young" artist. He died after I began working in Europe. During my years at Hewlett-Packard before pursuing a professional singing career, I learned the lesson that individuals are the true face of any organization. For me, therefore, the glamour of the Met has meant little, while the kindness of specific individuals within the Met family meant so much. Larry was among those out of which the "face" of the Met smiled. This is a side to the theater which the general public can never know.
Earlier in the 1986 I had composed another song to my choice of a text as a token of appreciation for Larry's recommendation for me to sing Parsifal in concert at Carnegie Hall with the American Symphony, John Mauceri conducting. That song to a poem of Walter de la Mare is titled, All That's Past.
The setting of this poem, which Larry had suggested as a favorite of his, is tinged with the same melancholy as is the text itself. The opening dissonance between E-flat and D major is the "Klang" on which the setting hangs, the F-sharp third of D functioning also as the minor third, tempering E-flat major. With this, the song's last phrase, "...summer sang in me a little while, that in me sings no more," ends, the vocal line lingering on F-sharp through the cadence in E-flat major. The accompaniment should be played, slightly blurred such that the harmonic colors merge.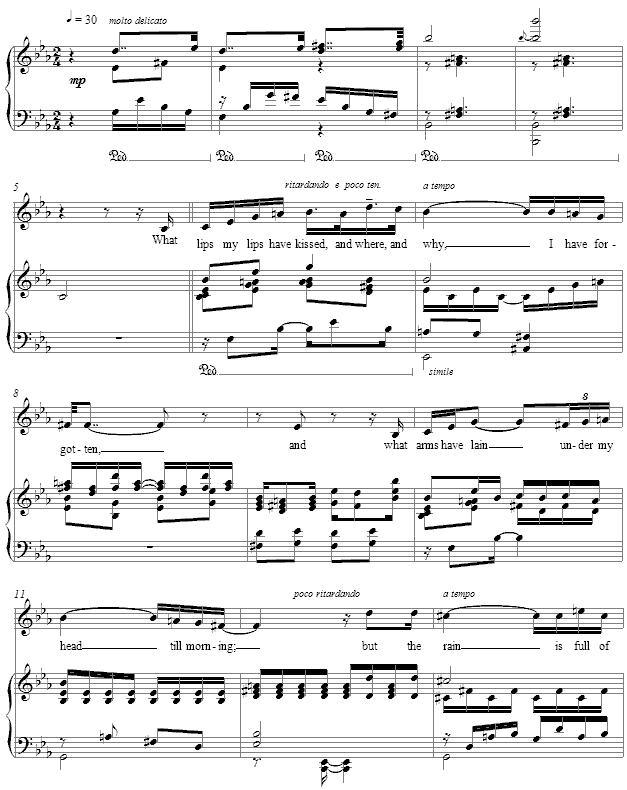 The score is available as a free PDF download, though any major commercial performance or recording of the work is prohibited without prior arrangement with the composer. Click on the graphic below for this piano-vocal score.