Two Simple Songs - (2005)

Virginia Bachlund
for soprano or mezzo soprano and piano
---
to the memory of my mother' sister, Genevieve Burkman
i. Renaissance [ 5 pages, circa 3' 45" ]
What is spring?
Could I but know
Whence comes the purple
Of a Violet, --
Resurrection after snow.

The daffodil salutes me.
I stop, and wonder why
Its yellow blossom
Once more nods
Beneath a still gray sky.

A tulip red is whispering
Of magic in the air.
It knows a secret,
Trusts a promise
Of a wonder rare.

A song of faith is stirring
Deep in the heart of me.
I sing, and rejoice
In exultation
To think that spring can be!

ii. A Seeking Heart [ 4 pages, circa 4' 00" ]

Who are you?
What are you?
Where are you?

When I greet the new day
In a hymn to the rising sun,
I sense your presence.

When I trace the veins
Of a maple leaf,
I feel your substance.

When my gaze is held by a sunset
That colors the western sky,
I see your glory.

There is no need to look afar,
For in the rainbow's magic arc
I see a wonder ever new.

I am not worthy to name You,
But I hold You in my heart,
And pray one day to know You.
Copyright © 1970 Virginia Bachlund Used by permission.
Total duration [ 8 pages, 7' 45" ]
---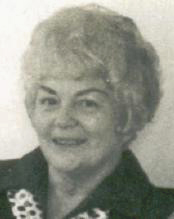 Virginia Bachlund
Virginia Ann Bachlund (1909-2000) was our mother, born the elder of two sisters in Jamestown, New York, to Swedish immigrants. A gifted pianist, organist and choral conductor specializing in children's choirs, she served many churches with our father, Gordon (senior), on their music staffs, and after being widowed taught Spanish and French for the Los Angeles City School system until her retirement. A linguistic at heart, she spoke English, Swedish, Spanish, and French. She studied at San Jose State Teacher's College, the University of Southern California and for many summers at the University of Guadalajara in Mexico.
These poems, as well as others, were found among her papers after her death, being thought lost. Having set some of my own texts and recently a poem written by my brother, it seemed only right to set these sweet poems to music as well.
Ranges in high, medium and low keys
"Renaissance" is a gentle affirmation of rebirth absent the hubris of a pretense of human understanding. Therefore it opens with a dense chord cluster which dissipates into an complete cadence.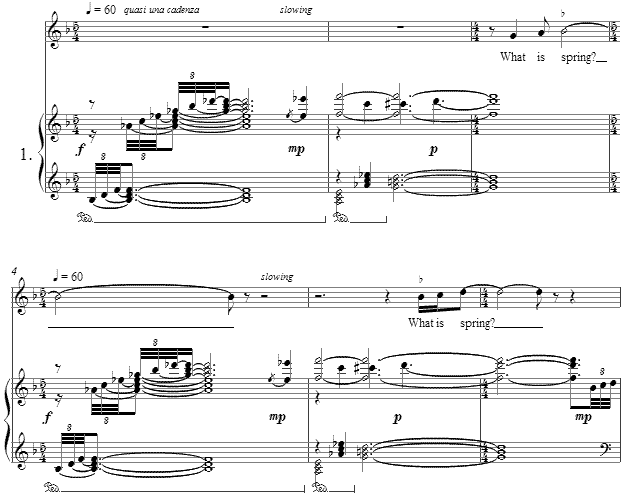 The sections of the this setting of "Renaissance" are a short introduction and two choruses in the accompaniment with the top voice predominating, and with the four strophes of the poem lying over the base. The harmonic structure of the first chorus begins clearly in F and modulates for the second to D flat major.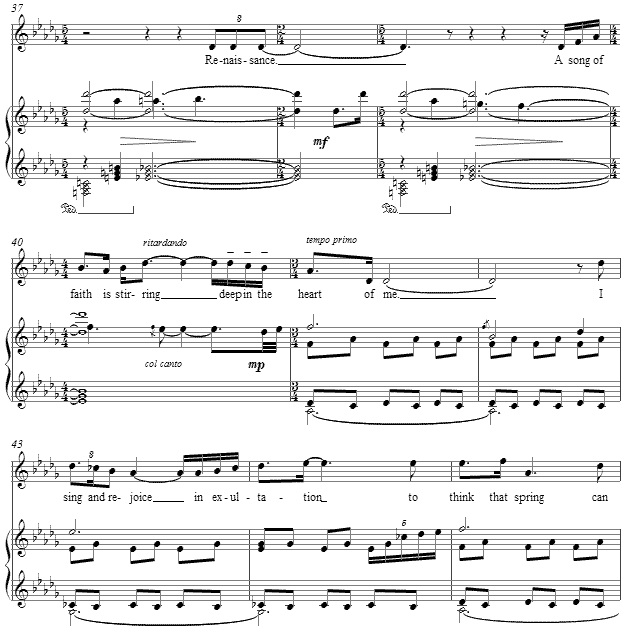 "The Seeking Heart" is essentially a short preamble with a set of five following strophes. The preamble asks basic questions, the "you" being spelled in the lower case, while the following strophes consistently identify the greater "You" spelled by capitalizing the word. These two pronouns refer to us and to that power which is greater than us. Who are we? Where are we? What are we? The answers to these questions are answered by reference to strophes which are not questions -- for the seeking heart places itself subordinate to that ultimate reality.
The underlying music is therefore a set of musical strophes which continue first in one octave, then an octave lower, and then again in the original voicing. The periodicity of these strophes do not align with the periodicity of the text. God underlies all and yet is not synonymous with all.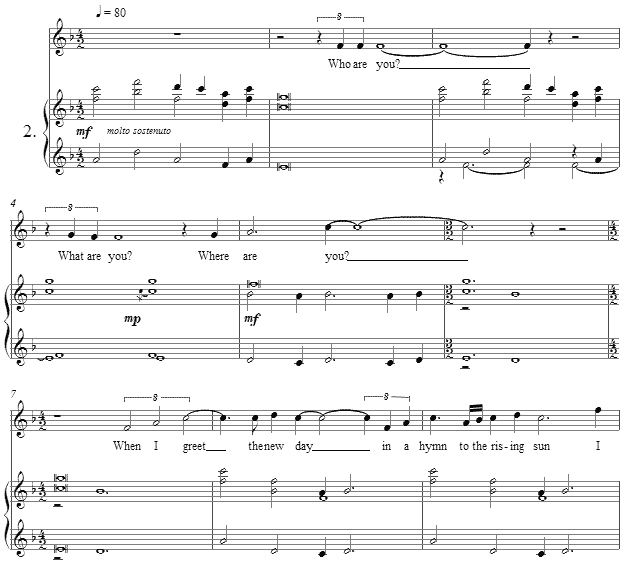 The texts remain under copyright and are reproduced here with permission.
The score is available as a free PDF download, though any major commercial performance or recording of the work is prohibited without prior arrangement with the composer. Click on the graphic below for this piano-vocal score.