Punctuality - (2014)

Lewis Carroll
for soprano and piano
---
Man naturally loves delay,
And to procrastinate;
Business put off from day to day
Is always done too late.

Let every hour be in its place
Firm fixed, nor loosely shift,
And well enjoy the vacant space,
As though a birthday gift.

And when the hour arrives, be there,
Where'er that "there" may be;
Uncleanly hands or ruffled hair
Let no one ever see.

If dinner at "half-past" be placed,
At "half-past" then be dressed.
If at a "quarter-past" make haste
To be down with the rest.

Better to be before your time,
Than e're to be behind;
To ope the door while strikes the chime,
That shows a punctual mind.

Moral:

Let punctuality and care
Seize every flitting hour,
So shalt thou cull a floweret fair,
E'en from a fading flower.
4 pages, circa 4' 10"
---

Lewis Carroll
Given the assertion that man likes to procrastinate "naturally," among the most normal delays in music is the suspension and following release. For this a simple harmonic phrase suggested itself, all of suspensions resolving over the bar line and then repeated in various various re-voicing as the vocal part enunciates this text from 1845. For other settings of Carroll's rhymes, click here.

A short introduction of four note chords, suspensions and tenths and sevenths within the tonic major framework leads to the re-voiced repetitions of accompaniment's phrase. The vocal part sometime delays -- procrastinates -- and sometimes misaligns with an expected rhythm.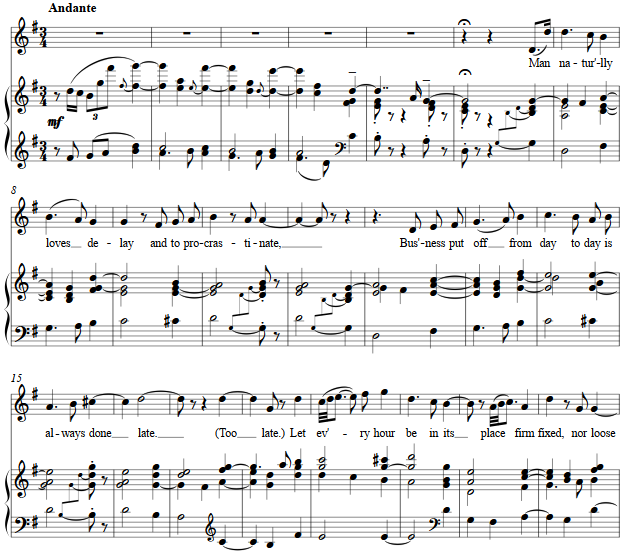 The score for Punctuality is available as a free PDF download, though any major commercial performance or recording of the work is prohibited without prior arrangement with the composer. Click on the graphic below for this piano-vocal score.