Fünf Fablen - (2008)

Gotthold Ephraim Lessing
for medium voice and piano
---
i. Aesopus und der Esel - [ 2 pages, circa 55" ]

Der Esel sprach zu Aesop: "Wenn du wieder ein Geschichtchen von mir ausbringst, so lass mich etwas recht Vernünftiges und Sinnreiches sagen."

"Dich etwas Sinnreiches!" sagte Aesop, "Wie würde sich das schicken? Würde man nicht sprechen, du seist der Sittenlehrer und ich der Esel?"
ii. Eine philosophische Maus - [ 3pages, circa 2' 00" ]

Eine philosophische Maus pries die gütige Natur, dass sie die Mäuse zu einem so vorzüglichen Gegenstande ihrer Erhaltung gemacht habe. "Denn eine Hälfte von uns," sprach sie, "erhielt von ihr Flügel, dass, wenn wir hier unten auch alle von den Katzen ausgerottet würden, sie doch mit leichter Mühe aus den Fledermäusen unser ausgerottetes Geschlecht wiederherstellen könnte."

Die gute Maus wusste nicht, dass es auch geflügelte Katzen gibt. Und so beruhet unser Stolz meistens auf unsrer Unwissenheit!
iii. Der Fuchs und der Storch - [ 3 pages, circa 1' 40" ]

"Erzähle mir doch etwas von den fremden Ländern, die du alle gesehen hast," sagte der Fuchs zu dem weit gereisten Storche.

Hierauf fing der Storch an, ihm jede Lache und jede feuchte Wiese zu nennen, wo er die schmackhaftesten Würmer und die fettesten Frösche geschmaust.

"Sie sind lange in Paris gewesen, mein Herr. Wo speiset man da am besten? Was für Weine haben Sie da am meisten nach Ihrem Geschmacke gefunden?"
iv. Der kriegerische Wolf - [ 4 pages, circa 3' 25" ]

"Mein Vater, glorreichen Andenkens," sagte ein junger Wolf zu einem Fuchse, "das war ein rechter Held! Wie fürchterlich hat er sich nicht in der ganzen Gegend gemacht!Er hat über mehr als zweihundert Feinde, nach und nach, triumphiert, und ihre schwarze Seelen in das Reich des Verderbens gesandt. Was Wunder also, dass er endlich doch einem unterliegen musste!"

"So würde sich ein Leichenredner ausdrücken," sagte der Fuchs, "der trockene Geschichtsschreiber aber würde hinzusetzen: die zweihundert Feinde, über die er, nach und nach, triumphiert, waren Schafe und Esel; und der eine Feind, dem er unterlag, war der erste Stier, den er sich anzufallen erkühnte."
v. Die Wasserschlange - [ 3 pages, circa 1' 40" ]

Zeus hatte nunmehr den Fröschen einen anderen König gegeben; anstatt eines friedlichen Klotzes eine gefräßige Wasserschlange.

"Willst du unser König sein", schrien die Frösche, "warum verschlingst du uns?" - "Darum", antwortete die Schlange, "weil ihr um mich gebeten habt." -

"Ich habe nicht um dich gebeten!" rief einer von den Fröschen, den sie schon mit den Augen verschlang. - "Nicht?" sagte die Wasserschlange. "Desto schlimmer! So muß ich dich verschlingen, weil du nicht um mich gebeten hast."
[ 15 pages, circa 9' 40" ]
---

Gotthold Ephraim Lessing
A contemporary of Goethe, Moses Mendelssohn and Voltaire (with whom he quarrled), Gotthold Ephraim Lessing (1729-1781) was born in Saxony and died in Braunschweig in his early fifties- Lessing was first a student of theology and medicine in Leipzig, then went on to Berlin, and became a famed German dramatist, critic, and philosopher, especially in the area of aesthetics. He worked to free German drama from the influence of classical and French models and wrote the first German plays of lasting importance, including the seminal Nathan der Weise. Among his early works is Der junge Gelehrte, which pokes fun at the arrogant superficiality, and vain yet easily offended scholar. His critical essays greatly stimulated German letters and combated dogmatism while affirming religious and intellectual tolerance. He urged playwrights to study and model themselves on the works of Shakespeare. His last and most optimistic work, Die Erziehung des Menschengeschlechts (1780; The Education of the Human Race) professed and argued for a perfecting of man over time. With such accomplishments, he like Mozart died penniless and was first buried in a pauper's grave, proving ever again that culture is often generated by those who their contemporaries fail to, or worse, refuse to recognize.

Written for medium voice, the range of the five settings is accessible to most singers. The first is under a minute in duration, and functions to introduce this set of fables, drawn from a far larger number by Lessing, all with instructive yet humorous purpose.
i. Aesop and the Donkey
The donkey spoke to Aesop: "When you propose another little story about me, let me say something sensible and profound." "You say something profound?" said Aesop, "how would that seem? Wouldn't people then say that you were the proper teacher and I the ass?"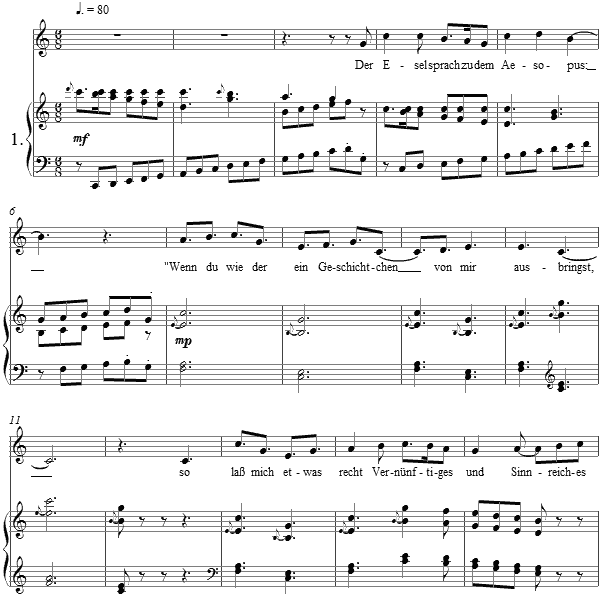 ii. A philosophic Mouse
A philosophic mouse praised Mother Nature, such that other mice sought out such excellent advice as he had to give. "As one half of us," the mouse said, "received wings from Mother Nature, if we here on the ground should be eradicated, the others could with little effort re-establish our extinct race through our bat friends. The good mouse didn't know that there were also flying cats. And so was our pride pacified mostly through our lack of knowledge.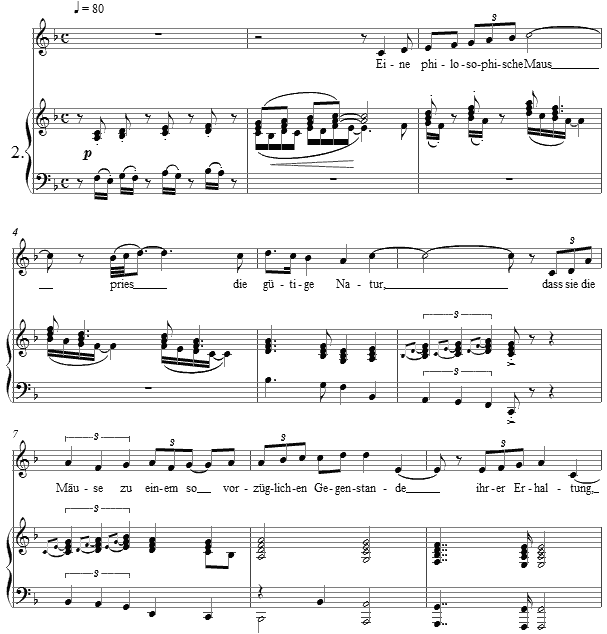 iii. The Fox and the Stork
"Tell me something of strange lands, that you have seen," said the fox to the well-traveled stork. With that the stork began to tell of every pool and every wet field, where he had enjoyed the tastiest worms and the fattest frogs."You been long in Paris, my friend. Where does one dine the best? What wine goes best with such delectable foods as you have found?"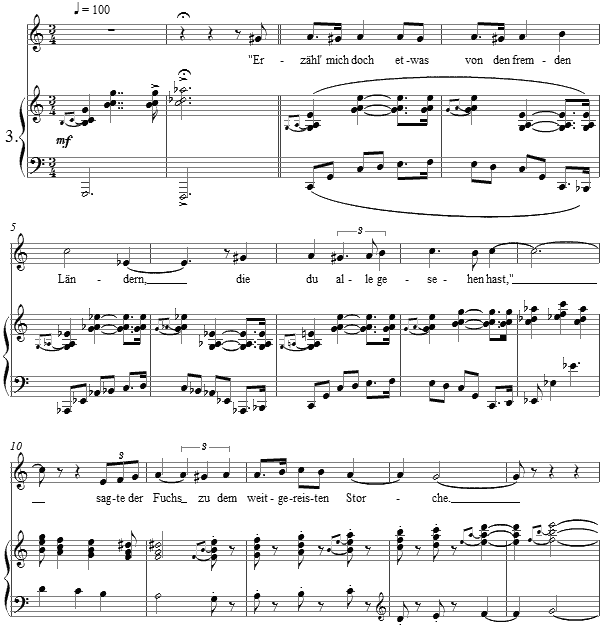 iv. The Warrior Wolf
"My father of glorious memory," said a young wolf to a fox, "he was a true hero! How feared did he make himself throughout the whole region. He triumphed over more than two hundred enemies, such as sheep and donkeys; and his black soul was hailed in the kingdom of destruction. While a wonder, of course sooner or later he had to be beaten!" "So he crowed about corpses," said the fox, "but that braggart should've sat down and shut up; the two hundred enemies over which he triumphed were just sheep and donkeys, and there was one enemy that brought him down, which was the first bull that he even dared to attack."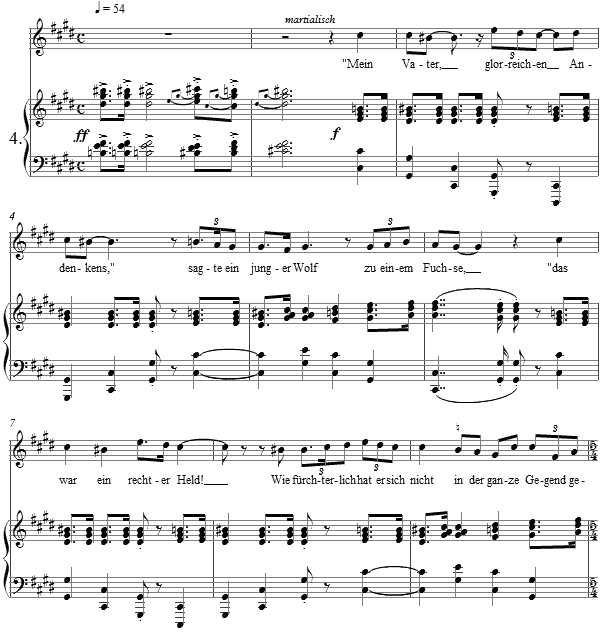 The duple meter which sings out the militancy of the young wolf gives way to a triple meter as the sly fox pricks the wolf's ego with the image of a mere bully having picked on those weaker than himself, one moral to this story of braggadocio and myth making at the expense of plain truth.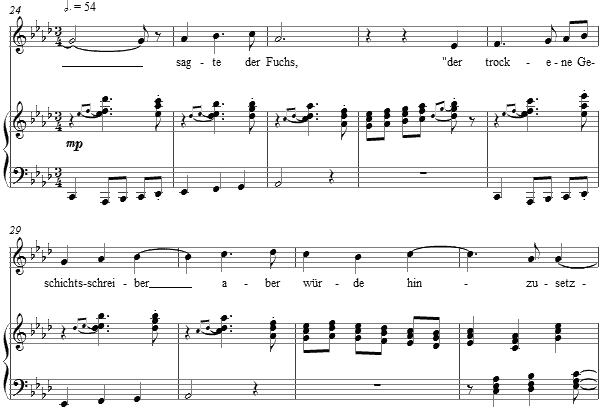 v. The Water Snake
Zeus had not ever given frogs another king; instead on a quiet log there was a gluttonous water snake. "Perhaps you could be our king," cried a frog, "but why do you devour us?" -- "For the reason that, " answered the snake, "you have asked for this." "But I haven't asked you," cried one of the frogs, that was being devoured with the snake's eyes. "No?" said the water snake. "That's even worse. So I have to devour you, because you haven't asked me to."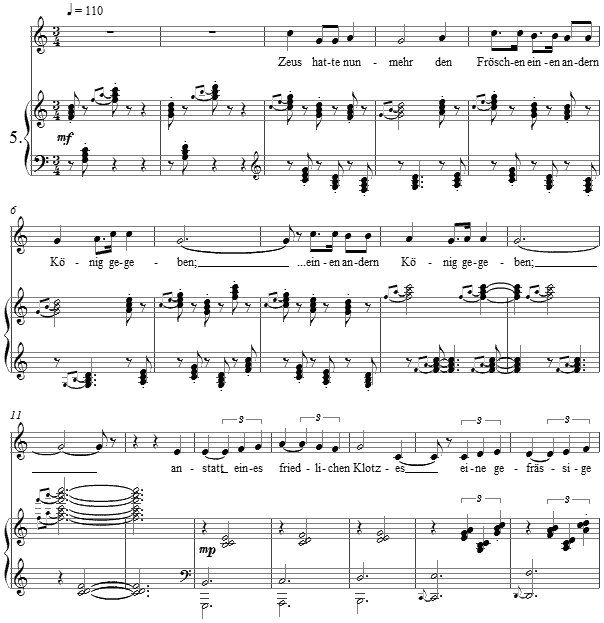 The bright, C major restatement of the opening places the perspective of the song setting as the snake's, for when one wins by both avenues it is a fine turn of affairs. I liken this to the arguments of politicians who blame a voting public, no matter what they themselves do or say. This is Lessing's storyteller method of saying that one is often "damned if you do and damned if you don't." For this it is always better to operate outside of these "two choices."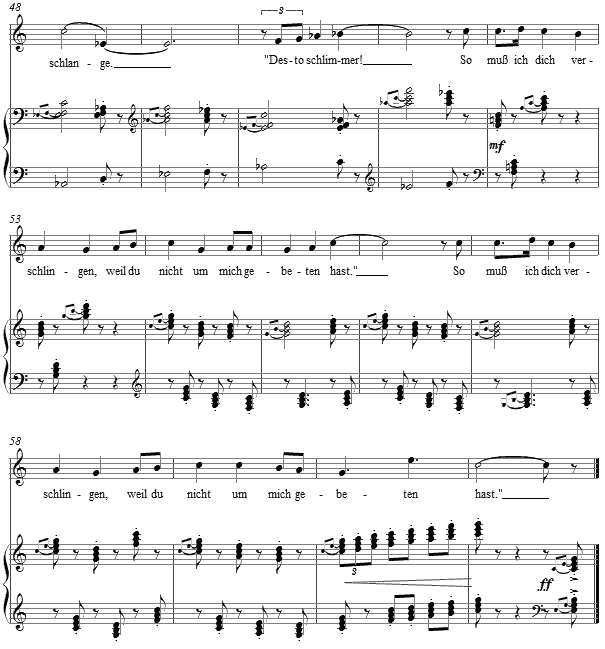 The score for Fünf Fabeln is available as a free PDF download, though any major commercial performance or recording of the work is prohibited without prior arrangement with the composer. Click on the graphic below for this piano-vocal score.