From Cautionary Tales for Children - (2005)

Hilaire Belloc
for soprano or mezzo soprano and piano
---
i. Henry King [ 4 pages, circa 2' 30" ]
The Chief Defect of Henry King
Was chewing little bits of String.
At last he swallowed some which tied
Itself in ugly Knots inside.

Physicians of the Utmost Fame
Were called at once; but when they came
They answered, as they took their Fees,
"There is no Cure for this Disease.

"Henry will very soon be dead.''
His Parents stood about his Bed
Lamenting his Untimely Death,
When Henry, with his Latest Breath,

Cried, ``Oh, my Friends, be warned by me,
That Breakfast, Dinner, Lunch, and Tea
Are all the Human Frame requires...''
With that, the Wretched Child expires.
ii. Matilda (who told such dreadful lies) [ 9 pages, circa 4' 00" ]

Matilda told such Dreadful Lies,
It made one Gasp and Stretch one's Eyes;
Her Aunt, who, from her Earliest Youth,
Had kept a Strict Regard for Truth,
Attempted to believe Matilda:
The effort very nearly killed her,
And would have done so, had not she
Discovered this Infirmity.
For once, towards the Close of Day,
Matilda, growing tired of play,
And finding she was left to alone,
Went tiptoe to the telephone
And summoned the Immediate Aid
Of London's Nobel Fire-Brigade.
Within an hour the Gallant Band
Were pouring in on every hand,
From Putney, Hackney Downs and Bow,
With Courage high and Hearts a-glow
They galloped, roaring though the Town,
"Matilda's House is Burning Down"
Inspired by British Cheers and Loud
Proceeding from the Frenzied Crowd,
They ran their ladders through a score
Of windows on the Ball Room Floor;
And took Peculiar Pains to Souse
The Pictures up and down the House,
Until Matilda's Aunt succeeded
In showing them they were not needed
And even then she had to pay
To get the Men to go away! . . . . .
It happened that a few Weeks later
Here aunt was off to the Theatre
To see that Interesting Play
The Second Mrs. Tanqueray.
She had refused to take her Niece
To hear this Entertaining Piece:
A Deprivation Just and Wise
To Punish her for Telling Lies.
That Night a Fire did break out-
You should have heard Matilda Shout!
You should have heard her Scream and Bawl,
And throw the window up and call
To People passing in the Street-
(The rapidly increasing Heat
Encouraging her to obtain
Their confidence)-but it was all in vain!
For every time She shouted "Fire!"
They only answered "Little Liar!"
And therefore when her Aunt returned,
Matilda, and the House, were burned.
iii. George (The boy who played with dangerous toys) [ 6 pages, circa 3' 30" ]

When George's Grandmamma was told
That George had been as good as gold,
She promised in the afternoon
To buy him an Immense BALLOON.
And so she did; but when it came,
It got into the candle flame,
And being of a dangerous sort
Exploded with a loud report!
The lights went out! The windows broke!
The room was filled with reeking smoke.
And in the darkness shrieks and yells
Were mingled with electric bells,
And falling masonry and groans,
And crunching, as of broken bones,
And dreadful shrieks, when, worst of all,
The house itself began to fall!
It tottered, shuddering to and fro,
Then crashed into the street below-
Which happened to be Savile Row.
When help arrived, among the dead
Were Cousin Mary, Little Fred,
The Footmen (both of them), the Groom,
The man that cleaned the Billiard-Room,
The Chaplain, and the Still-Room Maid.
And I am dreadfully afraid
That Monsieur Champignon, the Chef,
Will now be permanently deaf-
And both his aides are much the same;
While George, who was in part to blame,
Received, you will regret to hear,
A nasty lump behind the ear.
The moral is that little boys
Should not be given dangerous toys.
Total duration [ 19 pages, circa 10' 00" ]
---
Belloc has been rightly called a "master of whimsy." These whimsical settings are meant to of course reflect that humor. But in addition each of the little tales is a drama meant to be enacted melodramatically with the recital format. Factually the stories are tragedies, death being one common theme. But the additional theme is one of whimsy, as these terrible and "cautionary" tales are meant for both amusement and warning.
Hilaire Belloc
Joseph Hilaire Pierre Belloc (1870 - 1953) was an English author, as well as a biographer, poet, journalist, and essayist. Not English by birth, his father was French, his mother was Irish; and when he married, his bride was an American. But he looked more like the figure of John Bull than another Englishman of his time. He wore a stand-up collar several sizes too large for him. His rotund head was crowned with a black hat - sometimes tall, sometimes of the pancake variety. He was big and stocky and red of face, and a typically British great-coat draped his beefy form except in the warmest weather.

Hilaire Belloc - he dropped the other appendages at an early age-was born at La Celle, near Paris, on July 20, 1870. He studied at the Oratory School at Edgebaston, England, and at Balliol College, Oxford, where he matriculated in 1893. In his third year he was Blackenbury History Scholar and an honor student in the history schools.

Between Oratory School and his matriculation at Oxford, Belloc served in the French Army, where as a driver in the Eighth Regiment of Artillery, he was stationed at Toul. It was from this spot that, years later, he was to set forth on the pilgrimage afoot to St. Peter's that furnished material for the book that many critics consider his best, The Path to Rome.

In 1903 Belloc became a British subject and in 1906 was returned to Parliament by the South Salford constituency. He was a member of the Liberal party in the House of Commons after the Tory debacle of the preceding year. He made his first speech in the House early in 1906 and it won him an reputation as a orator, after having attracted considerable attention during his campaign. In the year of his return to Parliament he was also the nominee of the British Bishops to the Catholic Education Council.

Belloc's literary career began immediately after Balliol. He rapidly achieved success as a newspaper and magazine writer and as a light versifier. His first book, published in the year of his graduation, was Verses and Sonnets, and this was followed within a year by The Bad Child's Book of Beasts, in which his reputation as a master of whimsy was fully established.

"The Chief Defect of Henry King was chewing little bits of string," which resulted in Henry's death. Such a sardonic tale is told over a ground bass two measures in length, with a repetitious treble line four measures in length accompanying the voice and making fun through false relations with the bass line beneath.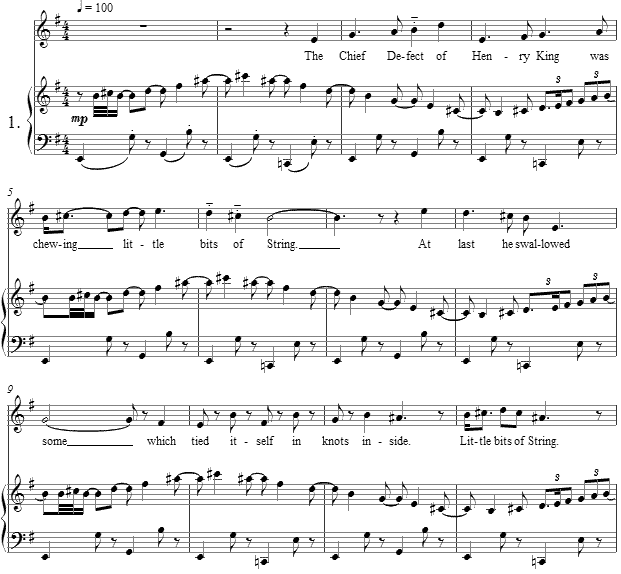 Mathilde, like Henry, has a bad habit which results in her demise too. Hers is lying, for this is merely a retelling of the fable of the boy who cried "Wolf!" The vivacity of the opening theme suggests that she was a lively young lady until her lying caught up with her. As with Henry's tale, this too is a ballad for musical storytelling, and for this the performers -- singer and pianist alike -- are encouraged to interpret the music as best fits their dramatic and comic inclinations.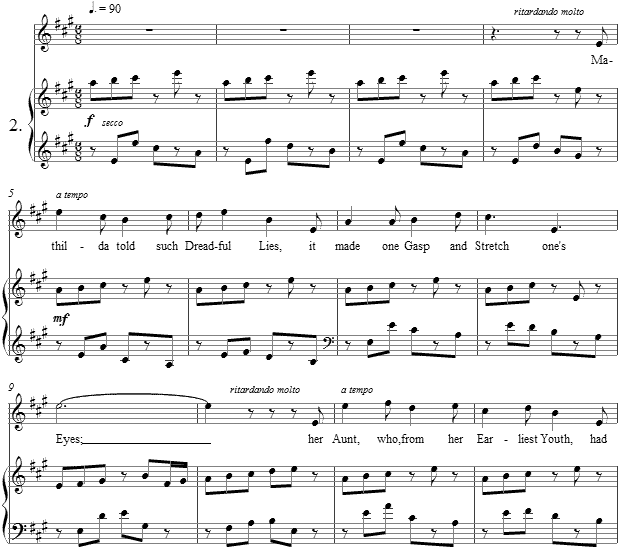 Yet another tale to be told, this with great calamity but without death for the principals involved. The formal yet faux Baroque texture of the accompaniment suggests a lack of seriousness to this tale with so many victims, as does the melodramatic writing to enunciate the text. Alas, Belloc suggests, that George and perhaps the Grandmamma as well got off without paying with their lives. As with Belloc, the setting ends in a humorous vein tinged with some seriousness, as there is a moral contained within.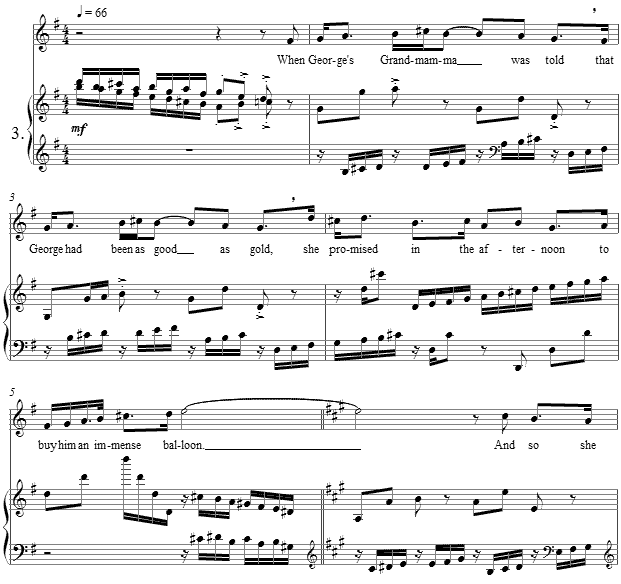 The score to From Cautionary Tales for Children is available as a free PDF download, though any major commercial performance or recording of the work is prohibited without prior arrangement with the composer. Click on the graphic below for this piano-vocal score.

From Cautionary Tales for Children