Das Bild - (2013)

Christian Morgenstern
for high voice and piano
---
Aus seinem Rahmen trat dein Bild
und schlang den Arm mir ums Genick –
und, eingewurzelt Blick in Blick,
durchgingen wir ein fremd Gefild ...

Und gingen stumm und unverwandt
und tranken unsrer Seelen Glanz
und wurden eine Seele ganz
und fühlten, was wir nie gekannt ...

Da schlug ein Lärm an unser Ohr –
ich sprach ein Wort – du fuhrst zurück –.
Zerflossen war das kurze Glück,
und alles wieder wie zuvor.
4 pages, 3' 30"
---

Christian Morgenstern
The Picture
Out of its frame emerged your form
and draped its arm around my neck -
and, face to face entwined,
we went out into strange new worlds ...

And went silent and steadfastly,
and drank from illumination in our souls,
and were as one soul complete,
and felt that which we had not known ...

Then came a noise to our ears -
I spoke a word - you went back -.
Melted away was that brief happiness,
and everything as it was before.
paraphrase by the composer
The polytonal colors play across of canvas, beginning in the softest dynamics, the arch of the setting rising to its height as, as a mirror of the arch of the text, falls back again into the shadows of pianissimo. For other settings to texts of Morgenstern, click here.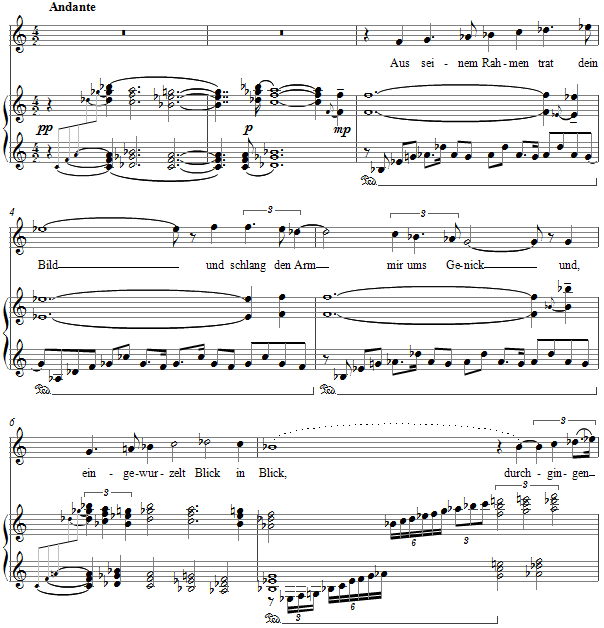 The score for Das Bild is available as a free PDF download, though any major commercial performance or recording of the work is prohibited without prior arrangement with the composer. Click on the graphic below for this piano-vocal score.