NOTES
[ 1 ] The young leading into folly is a historical truth. As Britannica also notes: "...in early 1212 a young man named Nicholas from Cologne became the focal point for a popular movement that swept through the Rhineland. After having allegedly received divine instruction...."
[ 2 ] A "worst outcome" as the NY Times opined is that "carbon markets" did not assign "voluntary" and thereby mandatory obligations to "trade" in carbon credits. The "carbon markets system" is about traders profiting, when all is said and done. More details flesh out the reality of the "markets," which are not markets.
The mural imagery above yields to a mural defaced in only two days in Canada, followed by logos of some of the real players behind the larger "carbon" picture.
Carbon Commodities and Electronic Exchange Platforms
Among the many traders lining up to profit from a "not new" concept -- the commodity -- is Carbon TradeXchange. From their website, one learns of their "products": "Today CTX is operated by Environmental Markets Services Ltd, a UK-based subsidiary of Global Environmental Markets (GEM). Under the CTX brand, EMS trades Carbon Credits certified by the Gold Standard, Verified Carbon Standard and United Nations CDM. We also offer other Carbon Services, including: Carbon Offsetting; Carbon Neutral Certification; Carbon Project Development; and Carbon Footprinting." Carbon TradeXchange, n. d.
CTX is that "UK-based subsidiary" of a larger trader, led by Wayne Sharpe. One reads further: "Since its foundation in 2009, GEM has built its own proprietary technology and IP with the help of heavy investment. As a result, minimal 'redevelopment' is required for personalisation of the technology to suit industries and sectors. GEM also provides market operators with electronic exchange platforms that help to facilitate fair, orderly and transparent electronic exchange trading platforms that give their participants the complete confidence to trade. Furthermore, GEM has a proven track record in designing, developing and operating web-based exchange and registry systems that suit any market requirements. These requirements can range from listing new products, disseminating market knowledge and information through to facilitating trading and providing world class, real time, clearing and settlement."
What is being traded? Paper. Certificates. "The concept is not new." One may refer back to the sourced footnotes under the title, Green Job
, and especially the historical details found in the second footnote.
But What Are Carbon Commodities?
And yet, the COP25 could not define a simple term, "The talking was endless: more than 70,000 hours were spent failing to define a 'market instrument,' something that was meant to have been decided at last year's conference in Katowice, Poland. Even though the Madrid conference ran over into the weekend, making it the longest ever, the issue will be kicked into next year's talks, in Glasgow, Scotland." In "Madrid Climate Conference Ends in Failure," by Rupert Darwall, Real Clear Energy, 16 December 2019.
Given there is no "market" without enforcement mechanisms and treaty-like obligations, it is of course difficult to define a "market instrument." What is the worth of a certificate? What is its backing? Shelf-life? Long-term value?
[ 3 ] This is a problem for the traders in "carbon" credits, pieces of certified paper more or less.
Purchase the Right to Pollute?
One reads: "The idea behind this system is that the most polluting countries can purchase the right to pollute more from countries that have not reached their emissions limits. The concept is not new. The 1997 Kyoto Protocol turned polluting emissions into a commodity. For example, the European Union Emissions Trading System (EU ETS) is the largest in the world and has been in operation since 2015. 'Carbon markets are regulatory structures that allow, in particular, oil and gas-intensive companies or heavy industry (or, in the case of COP25, countries) to reduce their economic footprint through a series of incentives,' Reed Blakemore, associate director of the US international affairs think tank Atlantic Council, told Euronews." In "What are carbon markets and why are they the talk of COP25 in Madrid?" by Marta Rodriguez Martinez, Euro News, 12 December 2019.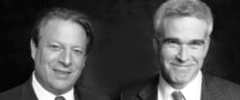 Proposed for murals: Multimillionaire traders Sharpe, Gore and Blood, and their Carbon Investing and Marketing
And so Madalina Scarlat's objection makes sense, as she declared "I don't believe in ecological capitalisation." Millionaire traders do. But should nations wish to cut their carbon emissions, they may do so from within their own national borders by national and local law and regulation.

Madalina Scarlat in Madrid, not on a mural
Buying extra-national pollution credits does not reduce proposed pollutants. But it will make some very few very rich, as they take a fee from the "market" of pieces of paper. Perhaps the faces of the traders, advocating for countries to sign up to their trading services could be painted large, as murals once the ones above have lost their cache?
There is much money to be won. One reads further: "Generation Investment Management, co-founded by former US Vice President Al Gore, has raised $1 billion (£786m) for its latest private equity fund to back sustainable start-ups. Generation IM Sustainable Solutions Fund III will invest between $50 million and $150 million in companies helping the health of the planet or individuals, or those driving financial inclusion." In "Al Gore's investment fund Generation raises $1bn to back eco-friendly start-ups," by James Cook, Telegraph UK, 21 May 2019.
CO2 Will Be Priced as an Asset, and Pollution Rights Will Be Purchased
And from years before: "The potential impact of climate change on asset pricing is highly material. For example, CO2 emissions will eventually be priced. The longer we wait, the higher the price point required to control global warming and the higher the risk of catastrophic outcomes. These events will eventually have negative stock price consequences in such industries as utilities, mining, transportation, chemicals, and fossil fuels." In "Sustainable capitalism: taking responsible investment mainstream," by Keith Ambachtsheer, Guardian UK, 16 July 2013.
So, to review: "The idea behind this system is that the most polluting countries can purchase the right to pollute more from countries that have not reached their emissions limits."

Isidro Castaner, of Extinction Rebellion, not on a mural
Those who act as middlemen stand to make money from all sides. This is what the Guardian called "sustainable capitalism." The Telegraph used the term, "eco-friendly." Climate activist Isidro Castaner, above, stated "the underlying problem with carbon credits is that they perpetuate the dynamic that 'everything can be traded and measured from an economic perspective'."
The traders would like that. Theirs are the faces of the carbon trading schemes.
[ 4 ] The "optics" of Oxfam International has been sullied, as the article refers to a Times UK article, and notes: "The revelations this month that the charity's staff sexually exploited victims of the Haiti earthquake in 2010, a point subsequently concealed, have triggered a storm of British discontent. The revelations included a very active country director, Roland van Hauwermeiren, who revelled in sex parties as he went about his humanitarian work. Allegations of sexual abuse in Oxfam shops have also made their searing mark. The organisation has lost over 7,000 donors since the revelations, and MPs on the international development committee overseeing aid have been unimpressed."
One might imagine other sorts of murals in public spaces such imagery might bring? Optics ticks....
[ 5 ] One reads of smaller, poorer nations, that "they could not be more ambitious on their climate goals unless they received more assistance." Exactly the point, and fully rational.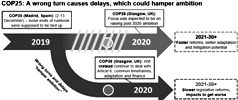 COP25: A wrong turn causes delays, which could hamper ambition / HSBC-ThomsonReuters
Ambition for Assistance...
The potentially capitalist explanation is that many wish to be paid for their efforts. The likely socialist explanation is that many have greater need and therefore need "assistance," as the "ambition" now elevated into the COP discussion is for income transfers. This further amplifies the quote above that "everything can be traded and measured from an economic perspective," given the demands, expectations and push for treaty mechanisms of "credits" in the hands of traders who may profit from the "mechanism," and transfer of wealth thereby, for such reasons as any might make.
...to ambition for Wealth and Power
Prince La-di-dah and gazillionaires
will make out fine, either way. "How dare you" not go along with the schemes, the optics and the clear goals -- of wealth and power for the few, when everything can be traded? Davos, anyone?
Why such skepticism? One reads: "Manufacturing Consent: The Political Economy of the Mass Media is a 1988 book by Edward S. Herman and Noam Chomsky, in which the authors propose that the mass communication media of the U.S. 'are effective and powerful ideological institutions that carry out a system-supportive propaganda function, by reliance on market forces, internalized assumptions, and self-censorship, and without overt coercion', by means of the propaganda model of communication. The title derives from the phrase 'the manufacture of consent,' employed in the book Public Opinion (1922), by Walter Lippmann (1889–1974). The consent referred to is consent of the governed." In "Manufacturing Consent," Wikipedia article, n. d.
The Art of Engineering Consent
This is fleshed out further: "For Herman and Chomsky, the acceptance of government policies by people in the USA on the basis of the partial picture of issues offered by the mass media, denying them access to alternative views which would lead them to oppose such policies. They present this as a propaganda model in which the mass media select material in relation to the values of those in power. The concept found in Gramsci and Althusserian Marxism, in which the dominant class sustains its hegemony through engineering assent: see also ideological state apparatus." In "Manufacture of consent," Oxford Reference, n. d.
Manipulating the Unaware
Oxford Reference also notes: "An allusion to the concept of 'the engineering of consent' defined in 1947, by the Austrian-American public relations pioneer Edward Bernays (1891–1995), as the art of manipulating people without them being aware of it. Bernays, a nephew of Freud, argued that people can be enticed to want things that they do not need if these are linked to their unconscious desires, a notion pursued by Dichter, the 'father of motivation'."
One may then return to the art, as many murals have been painted recently, in this latest of the many children's crusades which have been mounted across centuries.
China Coal is a Chinese Goal
"Save the planet by painting it / With murals here and there." The carbon traders and their wealth-making images will not be seen in such murals, manufacturing consent in the Western world. But in China more coal-fired power plants are being constructed.
What do the Western activists say of this? What murals will be painted in China? Which Extinction Rebellion protest will be mounted there? What "credits" will GEM and the EU's European Trading System sell to China, when the Chinese have started their own "system" for trading pieces of paper? What "sustainable" investments will Generation Investment Management place under Chinese Communist control?
The story is not yet complete. Tick tock.
[ 6 ] How about the optics of a white north European telling Africans who are ramping up power production, "How dare you?" Not on a mural....
How about the optics of a white north European telling Chinese who are ramping up power production including coal plants, "How dare you?" Not on a mural.....
How about the optics of white Anglo-world multi-millionaires urging government-controlled "market mechanisms" to profit by trading in energy indulgences? How about "how dare you?" Not on a mural....
The Poor Dare to Want Affordable Energy
One reads: "More than 340,000 electricity customers across Germany have their power cut off each year for failing to pay bills. A new proposal from one political party aims to change this. Figures from 2017 show that there were 343,865 cases of people having their electricity shut down off due to not paying a bill, an increase of 14,000 from the previous year." In "Call to prevent power cuts in poorest German households," TheLocal.de, 14 May 2019.
How about the optics of hundreds of thousands of Germans being threatened with power cuts? Murals and public protests by middle and upper class do not answer any of these questions, as they shout "How dare you?" When people are poor enough, they dare.
[ 7 ] In terms of optics, the "teenager" face of this is media-hyped, while other faces will never appear on murals around the world.
Printing and Selling Carbon Credits
One reads: "For Sweden's energy titans, saving the planet means government contracts to print the green stuff. Green energy lobbyists use populist scare tactics and a children's crusade to bypass elected representatives, but their goal is technocracy not democracy, profit not redistribution. Greta, a child of woke capitalism, is being used to ease the transition to green corporatism." In "Greta's very corporate children's crusade," by Dominic Green, Standpoint, 30 June 2019.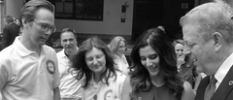 Ingmar Rentzhog, founder of a social media platform, whose
marketing motto is "Together we are the solution to the climate crisis"
What will not been seen painted on a public mural, Rentzhog alongside Al Gore, left above, is his article in Finance Monthly, August 2018.
A Game Changer? A Game?
"I think it's beyond doubt that social media is a real game changer. Institutions and organisations don't have the same control over their message and the image they project. So they must be much more proactive in terms of building relations with influencers and creating innovative strategies that work in today's media landscape." In "Climate Change: We Don't Have Time," Ingmar Rentzhog, 31 July 2018.
Green politics, for many, has meant the search for investors to place money in the hands of "green" investment managers, like Gore, Sharpe, and many like Rentzhog.
Finance, Investment Relations, Real Estate Funds and Investment Corporations
Dominic Green's article notes of this "green" public figure, whose "Swedish" social media platform operates in English, " 'Trained by Al Gore's Climate Reality Project, Rentzhog set up We Don't Have Time in late 2017 to 'hold leaders and companies accountable for climate change' by leveraging 'the power of social media'. Rentzhog and his CEO David Olsson have backgrounds in finance, not environmental activism, Rentzhog as the founder of Laika, an investment relations company, and Olsson with Svenska Bostadsfonden, one of Sweden's biggest real estate funds, whose board Rentzhog joined in June 2017. We Don't Have Time's investors included Gustav Stenbeck, whose family control Kinnevik, one of Sweden's largest investment corporations. In May 2018, Rentzhog and Olsson of We Don't Have Time became chairman and board member of a think-tank called Global Utmaning (Global Challenge). Its founder, Kristina Persson, is an heir to an industrial fortune."

Of this "foundation" and from its own site, one reads: "The company's majority shareholder is stiftelsen WeDontHaveTime Foundation. The non-profit foundation was founded by Ingmar Rentzhog and David Olsson, and is based in Stockholm, Sweden. Its principal purpose is to contribute to a reduced climate impact and an ecologically sustainable environment. Board of directors: Cathy Orlando, Stuart Scott, Per-Espen Stoknes, Ingmar Rentzhog, David Olsson, Jamie Margolin (youth advisor)."
One might be skeptical and conclude among its purposes is to pursue politics and investors willing to turn over their wealth to these "managers." While this foundation states it is "non-profit," the surrounding companies in which its founders are heavily invested are profit driven.
How would these whose backgrounds are in finance, real-estate funds and investment corporations look on a mural? Perhaps replacing a child? After all they, according to their own words, are "the solution to the climate crisis."
These "solutions" will take their percentage/fee for "trading" printed certificates. If investors lose, these traders will still win. And so "exchanges" proliferate alongside media-fed climate predictions.
To Generate Credits That Can Be Sold
One reads somewhat outdated information: "Currently, there are six exchanges trading in UNFCCC related carbon credits: the Chicago Climate Exchange (until 2010), European Climate Exchange, NASDAQ OMX Commodities Europe, PowerNext, Commodity Exchange Bratislava and the European Energy Exchange. NASDAQ OMX Commodities Europe listed a contract to trade offsets generated by a CDM carbon project called Certified Emission Reductions. Many companies now engage in emissions abatement, offsetting, and sequestration programs to generate credits that can be sold on one of the exchanges. At least one private electronic market has been established in 2008: CantorCO2e. Carbon credits at Commodity Exchange Bratislava are traded at special platform called Carbon place. Trading in emission permits is one of the fastest-growing segments in financial services in the City of London with a market estimated to be worth about €30 billion in 2007. Louis Redshaw, head of environmental markets at Barclays Capital, predicts that "carbon will be the world's biggest commodity market, and it could become the world's biggest market overall." In "Emissions Trading," Wikipedia, n. d.
"Could become?" Ergo, as Green wrote above, "...the biggest bonanza of government contracts in history: the greening of the Western economies." Government contracts. Not free markets. Green calls this "the transition to green corporatism." At this point, rereading the quote above from "Manufacturing Consent"
is apt. Corporatism is a form of governmental fascism, with Everything within
- an original sin.
Optics? Use a Child Rather Than Wealthy Corporate Traders
Or, from the PJ Media article above, "Another Greta candle on Etsy, also going for $18 but shipping from Chicago, casts the 16-year-old climate doomsday preacher as the Virgin Mary, complete with the sacred heart image — a heart pierced with a sword. In her left hand, the climate saint holds a globe designed like a bomb with a lit fuse."
And remember to panic!
[ 8 ] One notes that all these "investment managers" are pressuring companies and those who also invest through their management services to involve themselves in the worldwide trading systems, which will make traders a "bonanza." Where will such profits come? As always and ever, the little people will pay in increased costs in terms of prices, as the few as ever profit from the many. As an example: green screws red
- lights or bread.