why did you go - (1984)

E. E. Cummings
for medium or high voice and piano
---
why did you go
little fourpaws?
you forgot to shut
your big eyes....
(for the remainder of this text, please consult any one of the many printed and electronic sources)
Originally published as "V" in "Seven Poems" in The Dial, Volume 68, Number 5 (May 1920). New York: The Dial Publishing Company, Inc., and republished with "little tree" in one of two sets titled "chansons innocentes" in XLI Poems (1925). A partial facsimile of the Dial publication of "Seven Poems" may be seen at the University of Virginia Library's Electronic Text Center web site.
[ 2 pages, circa 2' 00" ]
---

E. E. Cummings
This gentle poem examines a sense of change through loss.

tessitura for low, medium and high voices
The opening gestures in the accompaniment are simple sixths, initially tonic against dominant functioning sixths, reversing positions in the first two chords of the opening succession. The harmonic progression then wanders afield from the tonic, cadencing in a substitute dominant comprised of tri-tones.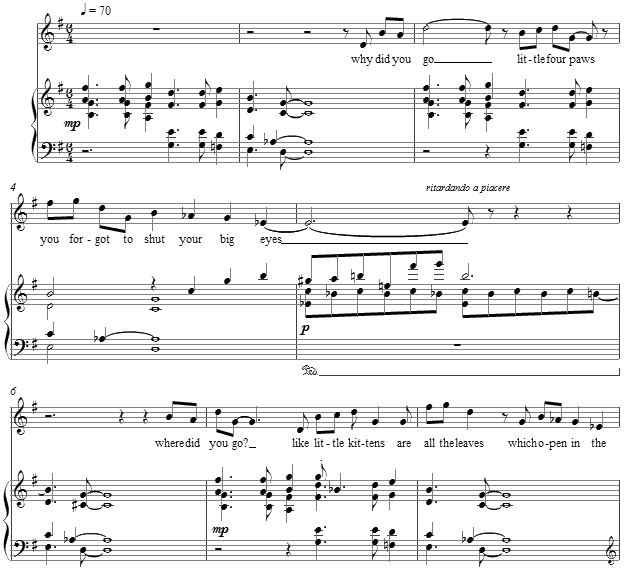 As with the "sister" setting, as Cummings three years later paired this poem with "little tree" into a set, on of two groupings later entitled chansons innocentes, there is a gestural difference between line settings. Some are lyrical and wide ranging, and others repetitive and lightly declamando. As "little fourpaws" had gone, so does the harmonic setting stray from its tonic of G major to an unusual cadence on the subdominant major with a minor seventh in the top voice of the accompaniment.
The score for why did you go is newly engraved and edited according to the text published in 1920 as found at the University of Virginia Library's Electronic Text Center, and is available in three keys for low, medium and high voices as a free PDF download, though any major commercial performance or recording of the work is prohibited without prior arrangement with the composer. Click on the graphic below for this piano-vocal score.