little tree - (1984)

E. E. Cummings
for medium or high voice and piano
---
little tree
little silent Christmas tree
you are so little
you are more like a flower....
(for the remainder of this text, please consult any one of the many printed and electronic sources)
Originally published as "little tree," number 5 in "Seven Poems" in The Dial, Volume 68, Number 5 (May 1920). New York: The Dial Publishing Company, Inc., and republished with "why did you go" in one of two sets which Cummings and his editors titled "chansons innocentes" in XLI Poems (1925). A partial facsimile of the Dial publication of "Seven Poems" may be seen at the University of Virginia Library's Electronic Text Center web site.
[ circa 3' 05" ]
---

E. E. Cummings
This well-beloved poem has been turned into picture books, and often used to evoke such pleasant nostalgias as it contains.

tessitura for low, medium and high voices
An opening gesture drawn from the familiar "Noel" opens the setting. Parallel seconds and The evocation of a Christmas memory brings another kind of melancholy mixed with pleasant thoughts, as the tree which perhaps had been "sorry to come away" to become a Christmas tree is addressed, personified and comforted "just as a mother would." [These illustrations are drawn from the edition for high voice.]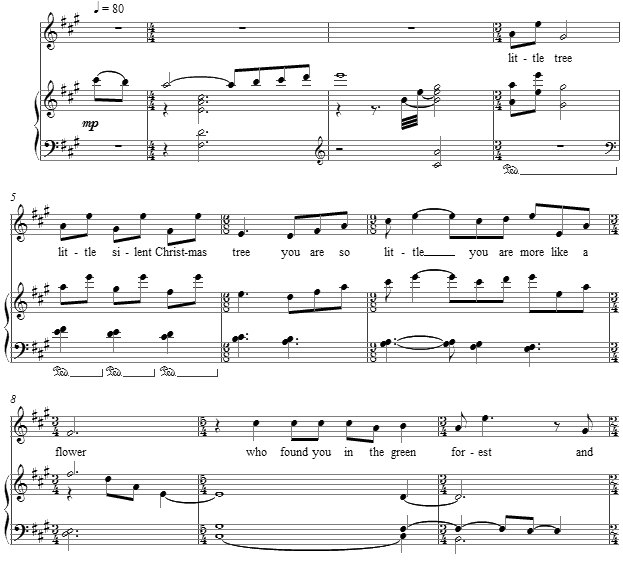 The setting alternates between lyricism and a gentle declamando of repeated words. A change of gesture and darker set of harmonics colors illustrate the magical moment of opening boxes with ornaments by which to grace the tree with its holiday splendor.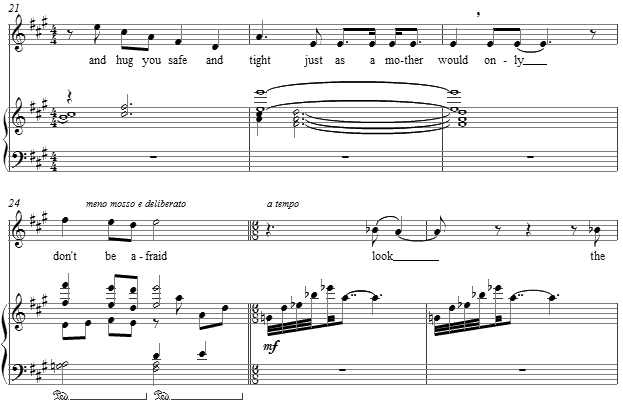 The well-known motif from "The First Noël" adds to the musical setting a festive note to obscure the child's personification of the cut tree, whose purpose ultimately is to decorate an opportunity "to dance and sing Noël Noël."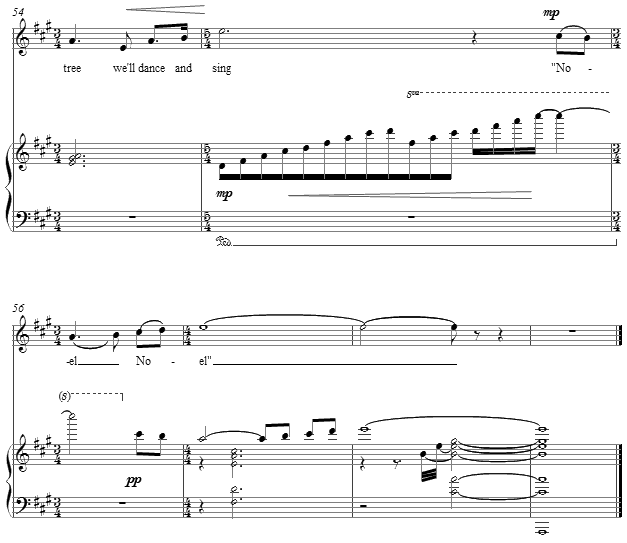 The score for little tree is newly engraved and edited according to the text published in 1920 as found at the University of Virginia Library's Electronic Text Center, and is available in three keys for low, medium and high voices as a free PDF download, though any major commercial performance or recording of the work is prohibited without prior arrangement with the composer. Click on the graphic below for this piano-vocal score.