Ye Carpette Knyghte - (2014)

Lewis Carroll
for medium or high voice and piano
---
I have a horse--a ryghte goode horse--
Ne doe I envye those
Who scoure ye playne yn headye course
Tyll soddayne on theyre nose
They lyghte wyth unexpected force--
Yt ys--a horse of clothes.

I have a saddel--"Say'st thou soe?
Wyth styrruppes, Knyghte, to boote?"
I sayde not that--I answere "Noe"--
Yt lacketh such, I woote:
Yt ys a mutton-saddel, loe!
Parte of ye fleecye brute.

I have a bytte--a ryghte good bytte--
As shall bee seene yn tyme.
Ye jawe of horse yt wyll not fytte;
Yts use ys more sublyme.
Fayre Syr, how deemest thou of yt?
Yt ys--thys bytte of rhyme.
4 pages, circa 4' 00"
---

Detail from Arthur B. Frost's illustration, 1883
A carpet knight? In a parody of old English? These three children's riddles fashioned thusly are among Carroll's smaller nonsense works, the text found in the anthology, Rhyme? And Reason? from 1883. A clothes horse, a saddle of mutton and a bit of rhyme make for three verses in this setting.

A chromatic opening leads to a first strophe, setting triplets against duplets in the tonic major. Thereafter, the opening in variation introduces a second stanza with the accompaniment rooted on the subdominant, and a third strophe places the subdominant and tonic together under the voice. A short playoff for piano alone ends this little whimsy.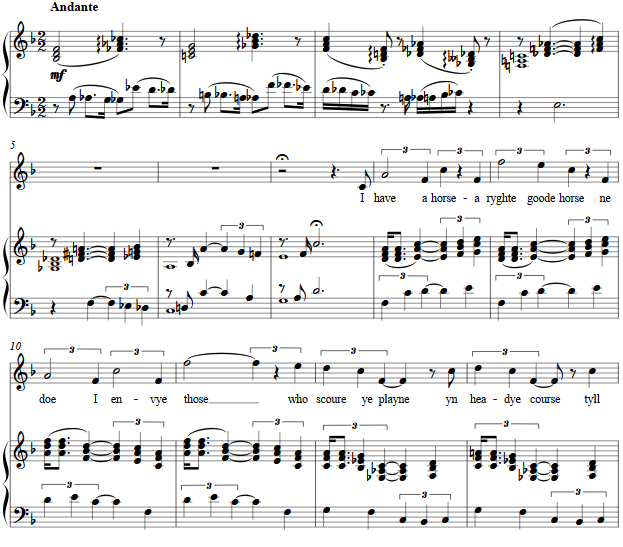 The score for Ye Carpette Knyghte is available as a free PDF download, though any major commercial performance or recording of the work is prohibited without prior arrangement with the composer. Click on the graphic below for this piano-vocal score.