Vayomer shalcheini - (1978)

text from the Torah
for tenor and piano
---
for Rabbi Solomon F. Kleinman, D.D.

from Genesis 32:
27 And he said: 'Let me go, for the day breaks.' And he said: 'I will not let you go, except you bless me.'
28 And he said to him: 'What is your name?' And he said: 'Jacob.'
29 And he said: 'Your name shall be called no more Jacob, but Israel; for you have striven with God and with men, and have prevailed.'
from Deuteronomy 6:
4 Hear, O Israel: the LORD our God, the LORD is one.

Written for tenor, this short setting capsules the confrontation between Jacob and the angel of God, which ends with the renaming of Jacob as Israel. I chose to follow this with the assertion of God's oneness -- the traditional Sh'ma -- from the book of Deuteronomy to complete the text, giving these last words into the metaphoric mouth of Israel who was called Jacob before this storied event. The setting begins in an accompanied declamando.
The affirmative lines of the story give way to a recall of the opening gesture, as the verse from Deuteronomy is declaimed, with the final repetition of the word - "one."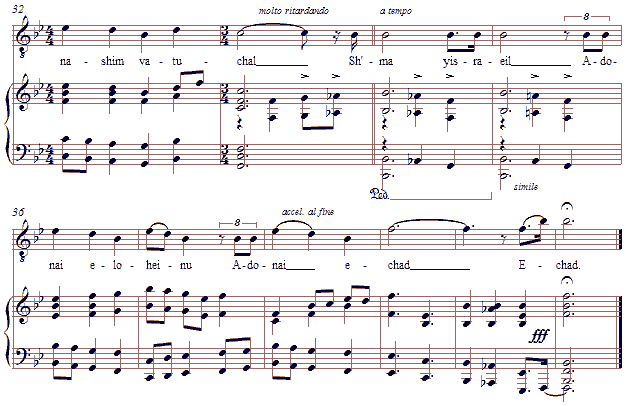 Sol Kleinman
Born in 1920 in St. Paul, Minnesota, in 1920, Solomon Kleinman came from a family of rabbis. He attended the University of Minnesota, then Reed College in Portland and later the University of Washington in Seattle, earning his B.A. in Philosophy. After this he attended Hebrew Union College in Cincinnati beginning in 1948 and was ordained rabbi in 1952. He came to Los Angeles 1956 to assume the position of Associate Regional Director for the Union of American Hebrew Congregations, and became the Regional Director two years later. In that capacity, he established the Union Hebrew High School. Additionally he served as Dean of the Los Angeles College of Jewish Studies, which he had helped organize to train religious school teachers and administrators. Later, at Hebrew Union College, Rabbi Kleinman taught many future rabbis. In 1997, Hebrew Union College conferred upon him an honorary degree as Doctor of Divinity. He helped found the first congregation anywhere in the world to serve the Jewish deaf. In 1960, with seed money from the Sisterhood of Wilshire Boulevard Temple, the new congregation was born. In gratitude, its members named it Temple Solomon of the Deaf in Rabbi Kleinman's honor. Rabbi Kleinman came to Temple Ahavat Shalom in 1973 at a time of instability and rabbinic discontinuity, and served it with distinction until his retirement in 1986. I was there with Sol for about the last ten years of his work, until beginning my concert career.
The score is available as a free PDF download, though any major commercial performance or recording of the work is prohibited without prior arrangement with the composer. Click on the graphic below for this piano-vocal score.