The Virgin's Cradle Hymn - (1968)

Anonymous 16th century (SAT a cappella)
---
Dormis Jesu, mater ridet,
quae tam dulcem sonum videt
Dormis Jesu blandule.
Si non dormis mater plorat,
inter fila cantans orat,
blande veni somnule.
---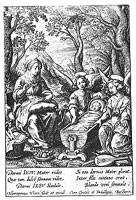 Sleep, sweet babe! my cares beguiling:
Mother sits beside thee smiling:
Sleep, my darling, tenderly!
If thou sleep not, mother mourneth,
Singing as her wheel she turneth:
Come, soft slumber, balmily!
Paraphrase by Samuel Taylor Coleridge (1772-8134)
The original Latin text is found at the bottom of an engraving by Hieronymus Wierix (circa 1553-1619), a Flemish artist, and is titled "The Virgin Sewing While Angels Rock Her Son to Sleep." It is now held in the Harvey D. Parker Collection.
Notes in the admirable A Christmas Book, edited by Eleanor Sayre, 1966, New York, Clarkson N. Potter, Inc., indicate that Coleridge published the original Latin in London's Morning Post (1801), then a free translation in the Courier (1811) and finally included the English translation as above in his Sibylline Leaves (1817).
A German translation from the Latin has been made by Bertram Kottmann (2011):
Schlaf nun, Jesus! Mutter lächelt,
als sie in den Schlaf dich fächelt,
schlafe, Jesus, lieblich ein!

Schläfst du nicht, dann singt und klagt sie,
dreht das Spinnrad, bittend fragt sie:
Schlummer, tritt behutsam ein!
Copyright © 2011 by Bertram Kottmann
The setting was written by request for a small amateur choir in Los Angeles during my day as an undergraduate at Immaculate Heart College, and first performed with singers and recorders doubling the voices.
The scores are available as a free PDF downloads, though any major commercial performance or recording of the works are prohibited without prior arrangement with the composer. Click on the graphics below for these choral scores.