The Pilgrim Soul - (1999)

William Butler Yeats
for high voice and piano
---
for Colleen Hunt, with encouragement during a difficult time
When you are old and grey and full of sleep,
And nodding by the fire, take down this book,
And slowly read, and dream of the soft look
Your eyes had once, and of their shadows deep;

How many loved your moments of glad grace,
And loved your beauty with love false and true,
But one man loved the pilgrim soul in you,
And loved the sorrows of your changing face....
---
This poem entitled 'When you are old' continues on with a third verse which I chose not to set. That last verse, after a semicolon ending the second, reads:
And bending down beside the glowing bars,
Murmur, a little sadly, how Love fled
And paced upon the mountains overhead
And hid his face amid a crowd of stars.

W. B. Yeats
This setting of the first two stanzas makes a rhapsodic statement in shades of sostenuto gray. The setting is for high voice, per the range noted below.

The rhythmic dissonance between duple and triple gestures was intended to evoke a halting admission of aging. By omitting the third stanza, I avoid the end of this story. Rather I hope to let this setting stand in the center point of the storyline, without revealing that "love fled." Of course, love can flee as well as seduce, but the meaning of these first stanzas refers to that time of looking back, of recalling a lovely moment passed.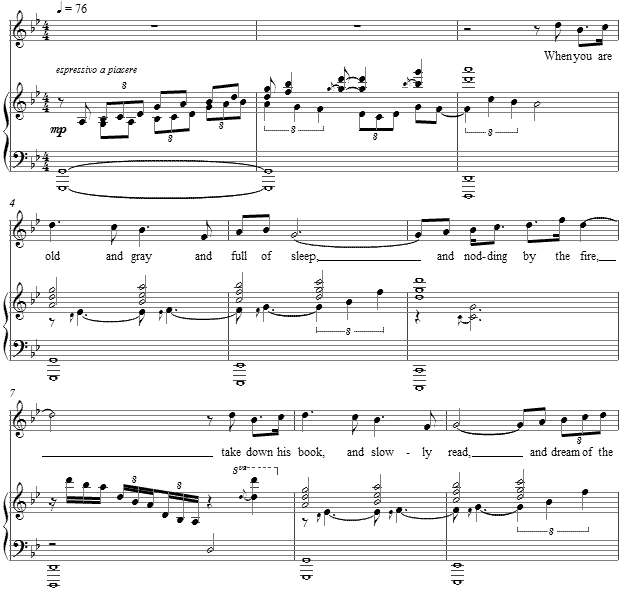 A song cycle for baritone based on other texts of Yeats is titled Three Magical Songs, and a single setting is titled He Wishes for the Cloths of Heaven.
The score for The Pilgrim Soul is available as a free PDF download, though any major commercial performance or recording of the work is prohibited without prior arrangement with the composer. Click on the graphic below for this piano-vocal score.