The Divine Image - (2006) William Blake

for soprano and piano
---
for Clarissa Haidy Carlson
To Mercy, Pity, Peace, and Love
All pray in their distress;
And to these virtues of delight
Return their thankfulness.

For Mercy, Pity, Peace, and Love
Is God, our Father dear,
And Mercy, Pity, Peace, and Love
Is man, His child and care.

For Mercy has a human heart,
Pity a human face,
And Love, the human form divine,
And Peace, the human dress.

Then every man, of every clime,
That prays in his distress,
Prays to the human form divine,
Love, Mercy, Pity, Peace.

And all must love the human form,
In heathen, Turk, or Jew;
Where Mercy, Love, and Pity dwell
There God is dwelling too.
[ 7 pages, 4' 20" ]
---

William Blake
William Blake (1757-1827) was an English poet, painter, engraver, and visionary mystic whose hand-illustrated series of lyrical and epic poems, beginning with Songs of Innocence (1789) and Songs of Experience (1794), form what Britannica terms "a strikingly original and independent body of work within the Western cultural tradition." Regarded as one of the earliest and greatest figures of Romanticism, he was ignored by the public of his day and was called mad because he was single-minded and unworldly; he lived on the edge of poverty and died in neglect.
One notes that many artists later deemed "strikingly original" labored in relative obscurity, and even experience attempted repression of their work.
This poem is drawn from the Songs of Innocence, another darker poem of the same name being found in the Songs of Experience.
Blake used a revolutionary printing method to publish two little tracts, one wonderfully titled There is No Natural Religion and All Religions are One, engraved about 1788. This poem symbolizes that insight, so insightful and truly progressive for its time. May we learn from such wisdom.

The setting opens with musings across a number of harmonic domains, treble and bass related pleasingly by tri-tones and seconds, in related polytonality. This settles into the tonic region of the song setting, F sharp major. The piano accompaniment is meant to be blurred, a rather static harmonic wash over which the simple melody might sing. Additional strophes are separated by similar means, and the penultimate is set to a more slightly assertive texture and harmonic content in the relative minor.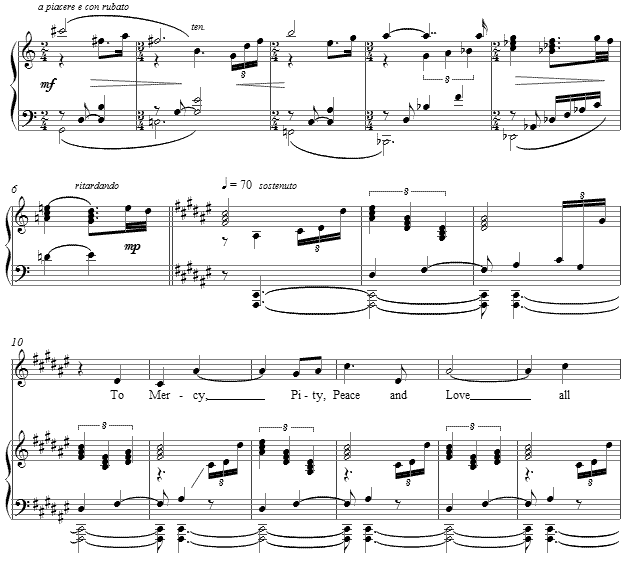 Reference: The Oxford Book of English Mystical Verse, Nicholson & Lee, eds. 1917, and Encyclopedia Britannica, 1991-1994.
A cycle of short songs to texts of William Blake is titled Three Blake Settings.

Clarissa Haidy Carlson
The score for The Divine Image is available as a free PDF download, though any major commercial performance or recording of the work is prohibited without prior arrangement with the composer. Click on the graphic below for this piano-vocal score.