The Circus Band and Other Delights - (2006)

Charles E. Ives
for medium or high voice and piano
---
i. The Circus Band [ 1' 05" ]
All summer long, we boys
dreamed 'bout big circus joys!
Down Main street, comes the band,
Oh! "Ain't it a grand and glorious noise!"

Horses are prancing, knights advancing;
Helmets gleaming, pennants streaming,
Cleopatra's on her throne!
That golden hair is all her own.

Where is the lady all in pink?
Last year she waved to me I think,
Can she have died? Can! that! rot!
She is passing but she sees me not.
ii. The See'r [ 30" ]
An old man with a straw in his mouth
sat all day long before the village grocery store;
he liked to watch the funny things a going, going, going by!
iii. The Cage [ 1' 15" ]
A leopard went around his cage
from one side back to the other side;
he stopped only when the keeper came around with meat;
A boy who had been there three hours
began to wonder, "Is life anything like that?"
iv. The Side Show [ 25" ]
"Is that Mister Riley,
who keeps the hotel?"
is the tune that accomp'nies
the trotting-track bell;
An old horse unsound,
turns the merry-go-round,
making poor Mister Riley
look a bit like a Russian dance,
some speak of so highly,
as they do of Riley!
[ Based on a text in English by P. Rooney ]
v. Waltz [ 2' 25" ]
Round and round the old dance ground,
Went the whirling throng,
Moved with wine and song;
Little Annie Rooney,
(now Mrs. Mooney,)
Was as gay as birds in May,
s'her Wedding Day.

Far and wide's the fame of the bride,
Also of her beau,
Every one knows it's "Joe;"
Little Annie Rooney,
(now J. P. Mooney,)
All that day, held full sway
o'er Av'nue A!
"An old sweetheart!"
vi. 1, 2, 3 [ 1' 00" ]
Why doesn't one, two, three
seem to appeal to a Yankee
as much as one, two!
[ Total duration - 13 pages, 6' 50" ]
---

Charles Ives
Charles Ives (1874-1954) wrote about the question of art in his self-published song collection:
"This is a question which each man must answer for himself. It depends, to a great extent, on what a man nails up on his dashboard as "valuable." Does not the sinking back into the soft state of mind (or possibly a non-state of mind) that may accept "art for art's sake" tend to shrink rather than toughen up the hitting muscles -- and incidentally those of the umpire or the grandstand, if there be one? To quote from a book that is not read, "Is not beauty in music too often confused with something which lets the ears lie back in an easy-chair? Many sounds that we are used to do not bother us, and for that reason are we not too easily inclined to call them beautiful?" . . .

"Possibly the fondness for personal expression -- the kind in which self-indulgence dresses up and miscalls itself freedom -- may throw out a skin-deep arrangement, which is readily accepted at first as beautiful -- formulae that weaken rather than toughen the musical-muscles. If a composer's conception of his art, its functions and ideals, even if sincere, coincides to such an extent with these groove-colored permutations of tried-out progressions in expediency so that he can arrange them over and over again to his delight -- has he or has he not been drugged with an overdose of habit-forming sounds? . . . ."
Charles Ives : from "Postface To 114 Songs", Essays Before a Sonata, The Majority, and Other Writings) [ 1 ]
"Tried-out progressions" and "sounds that we are used to do not bother us?" So worried Ives once upon a time. [ 2 ] Many decades after these concerns were penned, the exhaustive experimentation in all forms of modern classical music has searched for progressions yet untried and sounds to "bother." The public as consumers has grown weary from novelty for the sake of novelty -- just as Ives complained of "art for art's sake" -- and strides in neuroscience and neuro-philosophy have shown that there is indeed a limited and ever-better known range of human experience, emotion and artistic response. An "overdose of habit-forming sounds" was delivered up aplenty by the twelve-tone and set theory enthusiasts, who were and remain surprised that the majority of consumers of classical music in their own "self-indulgence" have wandered off in search of a good tune.
This is not to take exception with Ives' opinion per se, but rather to suggest that though his position in the history of American music is seminal, central and yet curiously built on only a few works, while most of his 114 Songs remain outside the normal art song repertoire. (This is true for many songs of Beethoven and Schubert, lest complaint be made that I target Ives somehow for some special critique.)
While I have an original edition of Ives' songs and have myself sung several of them in recitals over the years, I know few colleagues who have sung any of Ives' work. Are these colleagues guilty of "sinking back into the soft state of mind?" Are they "self-indulgent?" Are they "drugged with an overdose of habit-forming sounds?" I suspect not; rather the art song repertoire is so vast that one cannot possibly survey all of it. Tastes change as well. To respond to these vagaries with hard words is to fall prey to that side of many artists' life in which they feel that their work is being bypassed in favor of others. And yet his work has not been bypassed and much remains for discovery and exploration anew. The debut of my Concerto grosso for Harpsichord, Organ and Orchestra (1997) was paired with Ives' The Celestial Country; I felt myself in his good company then, as I did when I sang Ives' songs and as I do to compose these "tried-out progressions" to Ives' poetry, with a certain affection for the man and his singular art.

"The Circus Band" sings a boyhood memory of ogling the ladies in the circus parade, a reminiscence the the femme fatale which was once a dream, then became a young man's reality and then a memory. The 12/8 is meant to recall a popular style of the time when these notions were first experienced.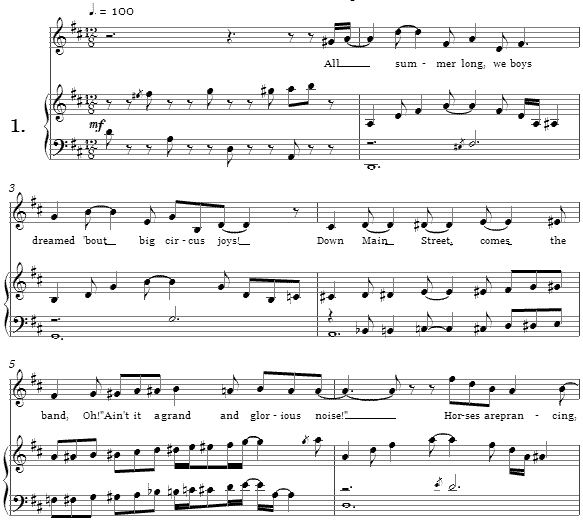 The "old man with a straw in his mouth" is a see'r -- one who sees -- which is far different from a seer. Was this a pun for Ives? Certainly this little vignette, as with all the songs in the cycle, are memories of the people which Ives must have known. They are people whom we too know.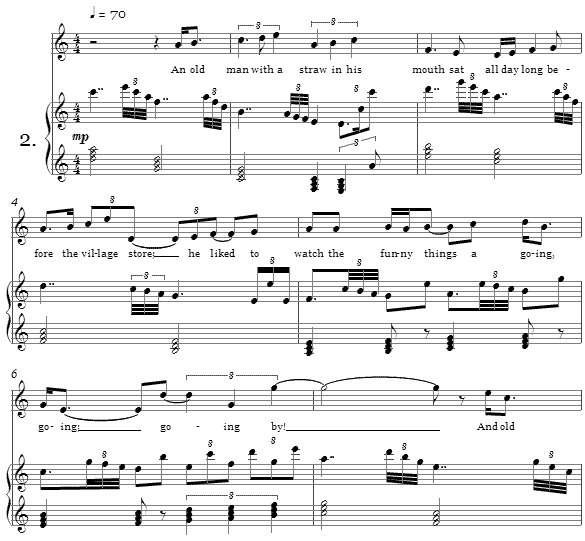 The leopard in "The Cage" is a metaphor of life, as Ives asks us to question whether or not we too are "caged." But the memory is from a boy's visit to the circus and side show as well. What an exotic and ferocious beast this caged leopard must have seen to the "boy" who recalls the scene later as the poet. The bottom triad in the piano should not be played overly loud, but be a growl beneath the "pacing" above, all very impressive to a small boy.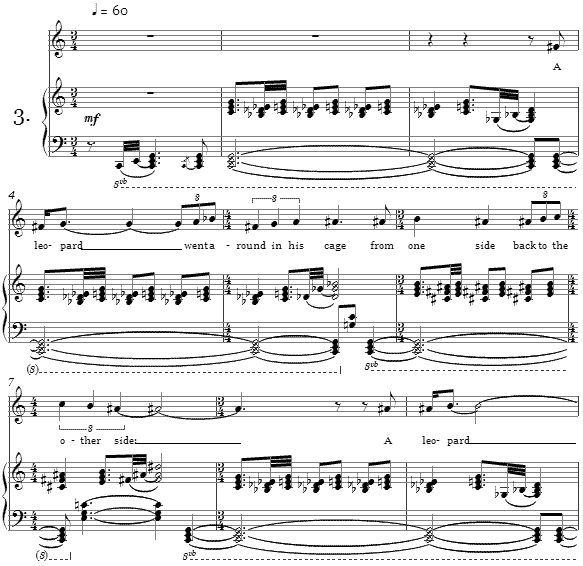 The merry-go-round must have been an alluring part of the traveling circus, and perhaps a little worse for wear from the traveling, set up and tear downs in each town and whistle stop. Perhaps the music box organ has a wrong note in it after so much use?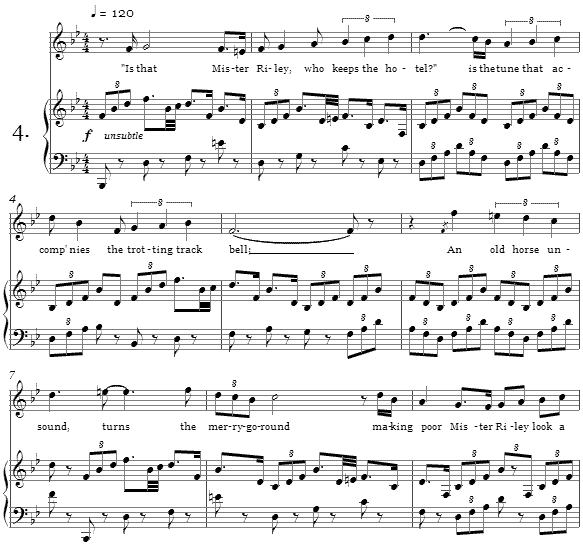 Belonging the the memories of boyhood and later years, seeing one's sweetheart married must evince melancholy, even when remembered in later years. This sentimental waltz should be lyrical and blurred.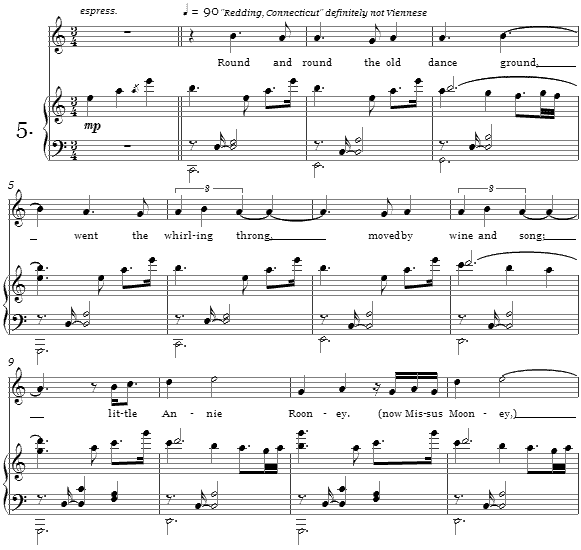 The Yankee blood deep in Ives' veins recalls the better thump and tumult of a decent, square martial rhythm, which washes away the bittersweet memory of the wedding day waltz with its strutting "oom-pah."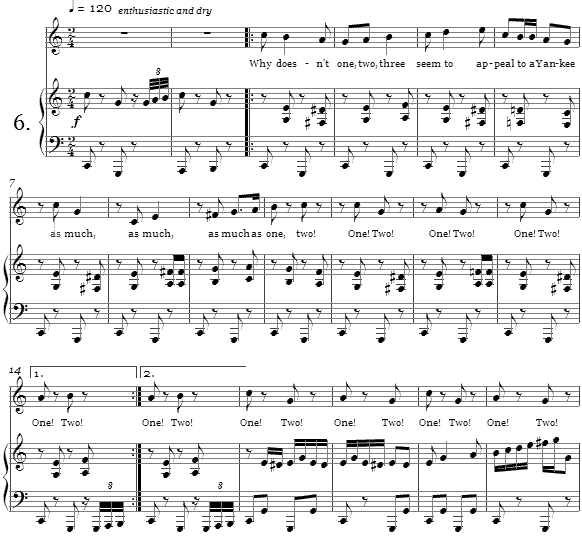 Another small cycle of songs to texts which Ives chose to set to his own music but which he did not author is titled Three Little Americana Songs.
The score is available as a free PDF download, though any major commercial performance or recording of the work is prohibited without prior arrangement with the composer. Click on the graphic below for this piano-vocal score.

The Circus Band and Other Delights
---
NOTES
[ 1 ] In another statement on music, Ives suggests "Music is one of the many ways God has of beating in on man -- his lifes, [sic] his deaths, his hope, his everything -- an inner something, a spiritual storm, a something else that stirs man in all of his parts [and] consciousness, and 'all at once' -- we roughly call these parts (as a kind of entity) 'soul' -- it acts thro or vibrates or couples up to human sensations in ways (or mediums) man may hear and know: that is, he knows he hears them and says (or thinks or feels) he knows them. -- further than this, what this inner something is which begets all this is something no one knows -- especially those who define it and use it, primarily, to make a living. -- all this means almost nothing to those who will think about it -- music -- that no one knows what it is -- and the less he knows he knows what it is the nearer it is to music -- probably." [Memo on notepaper of the St. James's Palace Hotel, London, June 1924.]
[ 2 ] "No single ideology which ignores these 'fictional' and very 'human' facts can make useful the breadth and extant range of all we call music, music theory and the many theories about music which comprise the web of discourse which centers itself on music." As quoted in Borrowings: Towards a Theory of Music and the Mind, 1993.