Talent - (1990)

Johann Wolfgang Goethe
for medium voice and piano
---
Hätte Gott mich anders gewollt,
So hätte er mich anders gebaut;
Da er mir aber Talent gezollt,
Hat er mir viel vertraut.
Ich brauch es zur Rechten und Linken,
Weiß nicht, was daraus kommt;
Wenns nicht mehr frommt,
Wird er schon winken.
---

Johann Wolfgang Goethe
Goethe stands as a seminal figure in German literature, and yet little is known of his many sides. One thinks of Faust and Werther, as well as some of the longer poems, but his wit and observations fill a lifetime of note taking and art making. He advises us of the real meaning of talent, as seen from a religious sensibility, so absent in today's art world.
Central to this is his clearly stated idea that God trusts the artist (or at least him); while some may today argue against this on theological grounds, I would sometime argue against on the grounds of talent and art, for so many contemporary artists fail to heed the serious lesson of a Goethe, and rather follow the advice of a clever carnival impresario, seeking scandal and empty complexity to lure the critic, when depth and content of thought would more than suffice. The poseur's posturing is never a substitute for talent in the long view.
Had God wanted me otherwise,
He would have made me different;
But He accorded me talent,
Because He trusted me.
I need it on all sides,
for I do not understand, what comes from it.
When nothing more is needed,
He will beckon me.

The setting is static, half notes beating out an insistence that the artist is as he is, and will be tomorrow as well. While some may deem this text a statement of faith in the Creator's gift of talent, I chose to set the sternness with which such a message must be beaten into the critics for whom another's talent should produce the results they as critics deem fit and proper. The broken octatonic scalar motion and underlying chord structures are meant to hint both at tonality on the one hand and the free uses of dissonance on the other.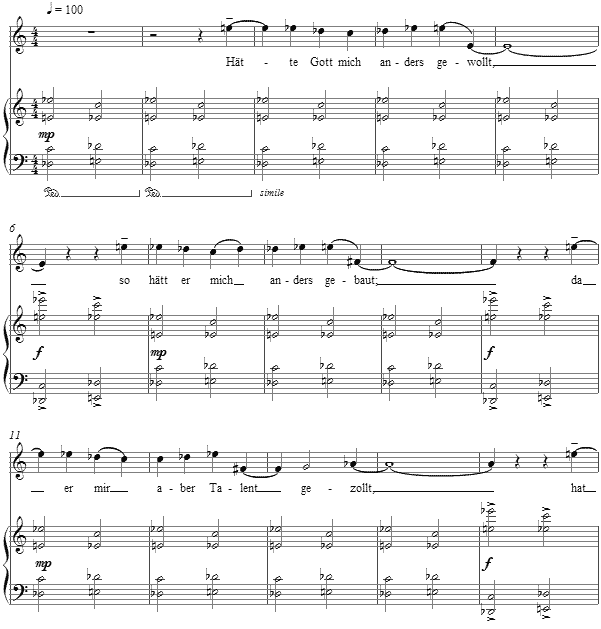 The score in the medium key is available as a free PDF download, though any major commercial performance or recording of the work is prohibited without prior arrangement with the composer. Click on the graphic below for this piano-vocal score.