Stufen - (2006)

Hermann Hesse
for bass or bass baritone and piano
---
Günther Groissböck gewidmet
This text remains under copyright and is therefore not fully reproduced herein.
Wie jede Blüte welkt und jede Jugend
dem Alter weicht, blüht jede Lebensstufe,
blüht jede Weisheit auch und jede Tugend
zu ihrer Zeit und darf nicht ewig dauern.
Es muß das Herz bei jedem Lebensrufe....
[ 7 pages, 6' 00" ]
---

Hermann Hesse
Hermann Hesse (1877-1962) was a German novelist, poet and winner of the Nobel Prize for Literature in 1946. His themes speak of man breaking away from established modes of civilization towards the essence and spirit of each individual. His dislike of school regimentation caused him to leave the Maulbronn seminary, and work at various jobs while working as a writer. This his 1906 novel, Unterm Rad, speaks of the overly diligent student who becomes self-destructive. His first novel from 1904, Peter Camenzind, tells of a failed writer, and his theme of the search for the creative self continues in Gertrud (1910) and Rosshalde (1914). The well-known Siddhartha (1922) became a cult classic, telling of the early life of Buddha in fictional form. Throughout World War I, Hesse lived in Switzerland and denounced militarism and nationalism, becoming a permanent resident in 1919, and then a citizen in 1923. His own sense of crisis brought him into psychoanalysis, and further works deal with this. Steppenwolf (1927) tells of the dissonance between bourgeois acceptance and self-realization in a middle-aged man, and Narziss und Goldmund (1930) contrasts an ascetic and religious intellectual with a sensualist pursuing other paths of realization. His last and longest novel, Das Glasperlenspiel (1943), contrasts the contemplative life with the active in the character of a gifted intellectual.

As every blossom wilts and every youth yield to age
blooms every step of life, and every wisdom and every virtue
in its time and shall not last.
At every step in life must the heart
be prepared for loss and new beginnings,
with courage and without sorrow
in others, to offer new attachments/bonds.
And in every beginning there is a magic,
that protects us and helps us to live.
We should cheerfully stride from place to place
without attachment to any one or nation.
The world's spirit shall not make us captive,
but will lift us from step to step, onwards.
Scarcely as we are come into life
and are finally at home, then threatens loss of vigor.
Only those who are ready to depart and travel,
may be comfortable with this.
It will perhaps that the hour of our death
will show us yet new possibilities.
Life's call shall not end.
Therefore, my heart, grasp both the farewell and with it be well.
As with the stages -- stair treads in Hesse's image -- of life, the climb from our beginning to our end is a progression. And so, the setting of this text begins as a climbing, the half-diminished seven chord being again and again respelled into a rising gesture with the assist of some passing tones to accompany the vocal line. As with the reality of life, the foreground changes but the harmonic background holds all together into one barely changing underlying structure. As with the stages of life, the gesture begins anew again and again.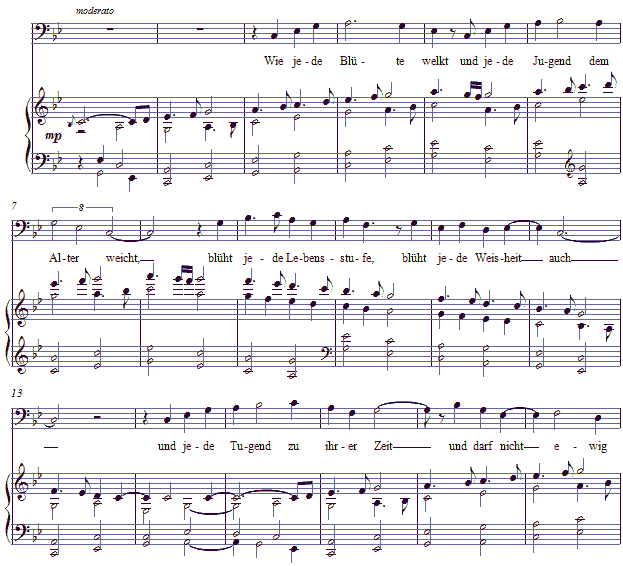 As the half diminished seven chord is decorated by passing tones of B-flat through the the opening gesture and its repetitions, "taking heart" in Hesse's understanding of life alters that into a B natural, as triplets and a faster tempo propel the text forward. The appearance of Hesse's image of the "Weltgeist" further accelerates the setting, just as later years in life seem to speed ahead with an awareness of how much time has already passed.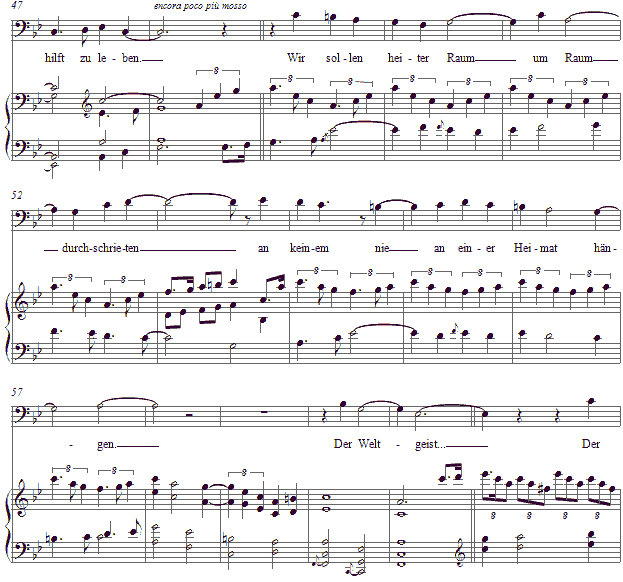 As the final statement of the text, Hesse counsels us to "take heart," and so the opening gesture is again repeated, the setting fading in dynamic and tempo at its end, in parallel to the expected ending of life itself.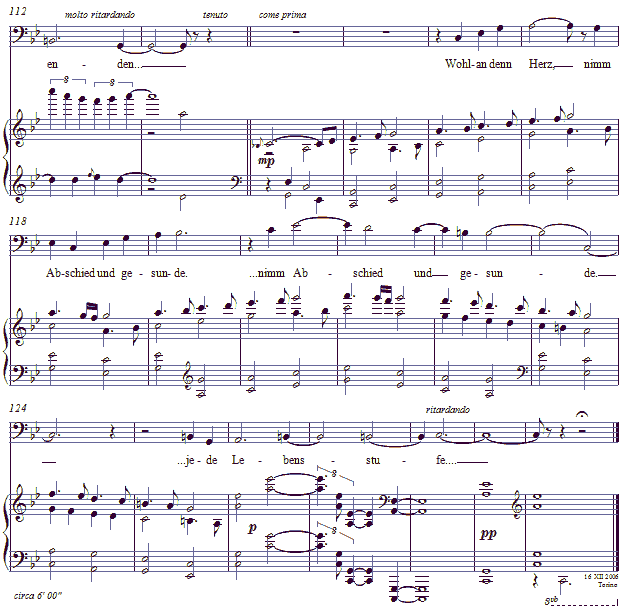 Günther Groissböck
While working with this young bass baritone in Torino, I complimented Günther on his fine musical gifts and suggested composing a "Lied" for him. His choice was this text of Hermann Hesse, from 1941, which he had often listened to in an audio book form. In looking, I have found the full text of this poem at a number of sites on line, as the text itself has apparently many with its sense and meaning.
The score for Stufen is available as a free PDF download, though any major commercial performance or recording of the work is prohibited without prior arrangement with the composer and the Hesse estate. Click on the graphic below for this piano-vocal score.