Daybreak - from "Cannery Row" - (1983)
John Steinbeck
for soprano and piano
---
Cannery Row (1945) remains under copyright, and as such the texts are not reproduced here in their entirety.
Early morning is a time of magic on Cannery Row.
The street lights go out and the weeds are a brilliant green....
These songs were thoughts about a chamber operatic setting of Steinbeck's novel, and are among a number of sketches towards an operatic setting of this classic American tale planned as the 1945 copyright nears its conversion to public domain. This was not to be.
As in introduction to morning in Cannery Row, that wonderful area of the Monterey Peninsula in California, a light high soprano describes for us of the environs, the time of day and feeling which surrounds this magical place as embellished by Steinbeck's marvelous story and characters.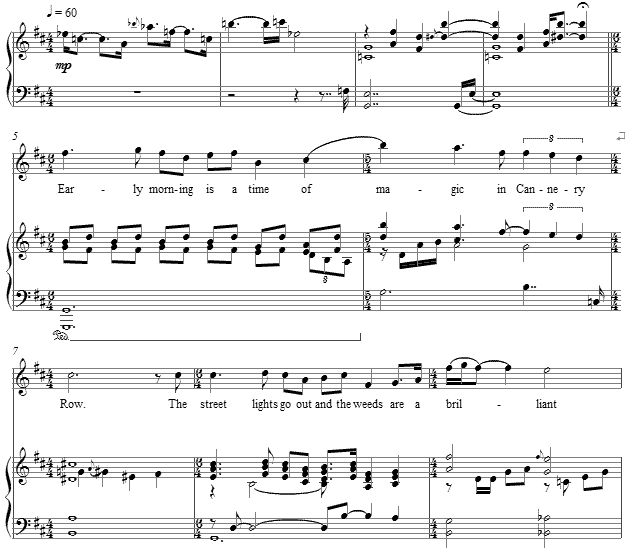 One of my favorite lines to set to music was "Silent early morning dogs parade picking whereon to pee." Humorously the lyricism of the opening to this song fits quite aptly for that picture as well, since it is all a part of the morning's ablutions.
---
Dora's Girls from "Cannery Row" - (1983)
John Steinbeck
for mezzo soprano and piano
---
Dora's girls are well trained and pleasant.
They never speak to a man on the street....
One of the "girls" -- a mezzo soprano -- in the Bear Flag, a "respectable" house of prostitution, tells of the house and its girls. While the text for the novel is prose, much of it is fully apt for a libretto, so well written is the text. Therefore this strophic song and bridge are fully prose yet function fully as lovely song lyrics at the same time.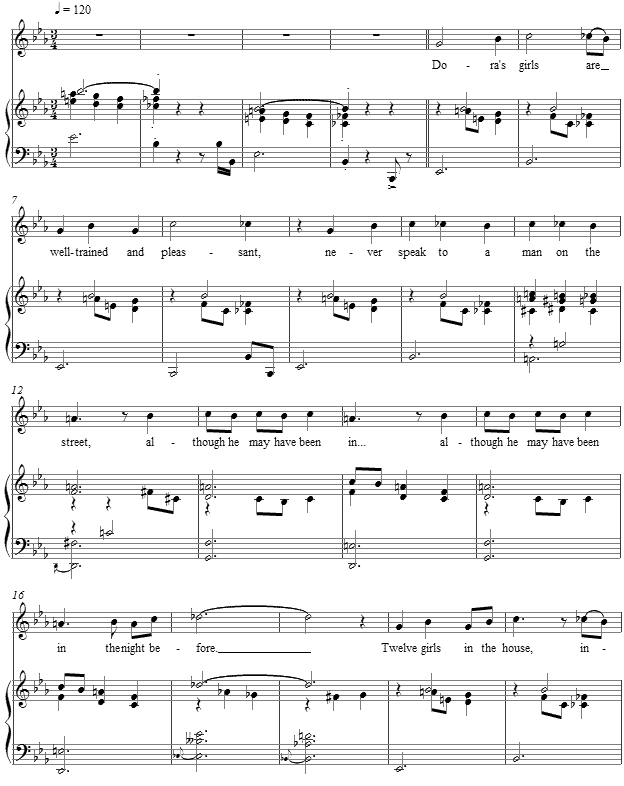 John Steinbeck
John Ernst Steinbeck (1902-1968) was born in Salinas, California, inland by only miles from the Monterey Peninsula. This great American novelist is perhaps best known for The Grapes of Wrath (1939) which told the story of the Great Depression through one migrant worker family's struggles. It won for him the Nobel Prize for Literature in 1962. His novella, Of Mice and Men (1937) has been also a play, a film (1940) and an opera, and won the Pulitzer Prize and National Book Award, and after the war years and some time working in Mexico with his friend, freelance biologist Ed Ricketts, Steinbeck wrote Cannery Row (1945), which has also become a film. The interesting characters of the work are apt for operatic treatment, as is the text, which I fully edited into a libretto using only Steinbeck's own words. In time, I will ask permission of the estate to use this text as a complete libretto for a two act work.