Reward - (2013)

Joseph Seamon Cotter, Jr.
for medium voice and piano
---
for Cathy Rubin
Out of the silence
I come to you,
Bringing a love
Free as the dew.

I come and sing
A heart's great love,
And passion of soul
Pure as a dove.

But this I crave
As you pass by--
A smile on your lips,
A light in your eye.
2 pages, circa 2' 30"
---

Joseph Seamon Cotter, Jr.
The text is found in Poems, 1922, an anthology of his work. For settings of Cotter's other texts, click here.

Employing first inversion triads related by a diatonic second of the scale, this simple setting breaks the three stanzas of the poem into two strophes by repeating the text, a long standing song form tradition.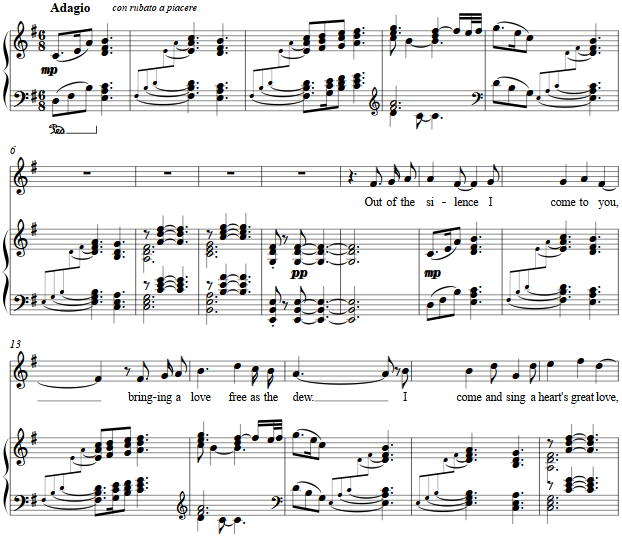 From Rubin's website: "C.M. Rubin was born in South America, and as a child, lived in many cities throughout the United States, Europe, Africa and the Middle East. She has more than two decades experience in development, marketing, and art direction for a diverse range of media businesses. She is the author of two best-selling, award winning books for children, Eleanor, Ellatony, Ellencake and Me, and its sequel, Ellie, The Perfect Dress For Me, . She is currently working on a third book in the Ellie series." Along with Gabrielle Rubin she has written The Real Alice in Wonderland: A Role Model for the Ages.
The score for Reward is available as a free PDF download, though any major commercial performance or recording of the work is prohibited without prior arrangement with the composer. Click on the graphic below for this piano-vocal score.