Pst - (2013)

Wilhelm Busch
for medium voice and piano
---
Es gibt ja leider Sachen und Geschichten,
Die reizend und pikant,
Nur werden sie von Tanten und von Nichten
Niemals genannt.

Verehrter Freund, so sei denn nicht vermessen,
Sei zart und schweig auch du.
Bedenk: Man liebt den Käse wohl, indessen
Man deckt ihn zu.
1 page, circa 1' 30"
---

Wilhelm Busch
Psst
Sadly there are some facts and tales
Most saucy, delighting us males;
But for our aunties' and nieces' wails
One never blurts out the details.

Dear friend, be neither bold nor loud,
But demure round your feminine crowd.
Remember: Savory cheese is best not allowed
To go uncovered from its cheesecloth shroud.
rhymed paraphrase by the composer
Copyright © Gary Bachlund 2013

A simple verse form with small coda, the accompaniment gestures parallel and often separated by a major tenth. The text of from his collection, Zu guter Letzt. For other settings of Busch's texts, click here.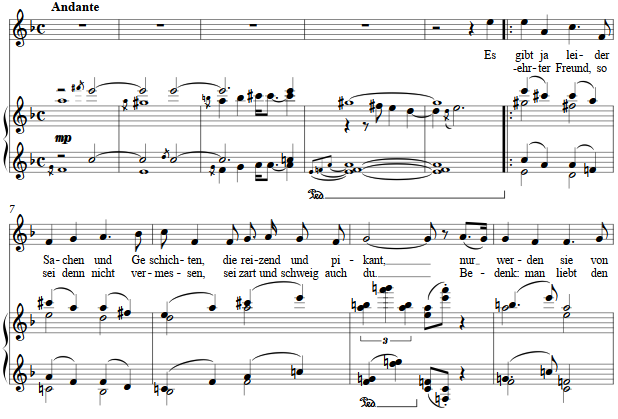 The score for Pst is available as a free PDF download, though any major commercial performance or recording of the work is prohibited without prior arrangement with the composer. Click on the graphic below for this piano-vocal score.