My Fairy - (2014)

Lewis Carroll
for medium voice and piano
---
I have a fairy by my side
Which says I must not sleep,
When once in pain I loudly cried
It said "You must not weep."

If, full of mirth, I smile and grin,
It says "You must not laugh."
When once I wished to drink some gin,
It said "You must not quaff".

When once a meal I wished to taste
It said "You must not bite"
When to the wars I went in haste
It said "You must not fight".

"What may I do?" at length I cried,
Tired of the painful task.
The fairy quietly replied,
And said "You must not ask".

Moral: "You mustn't."
3 pages, circa 2' 40"
---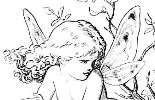 Detail of illustration by E. Gertrude Thomson, for Carroll's collection, Three Sunsets and Other Poems.
This little poem was written when Dodgson was thirteen, and not commercially published in his lifetime. As with other of his rhymes, there is an edge to such a seemingly sweet image. That edge is emblematic of the restrictions of Victorian society in which he lived and functioned. Because of this the song setting has a dark edge. For other settings of Carroll's texts, click here.

The contrary motion of the rising parallel triads and descending bass line meet at the tri-tone. The short stanzas are flavored with polytonal relationships, with changes of tempi throughout.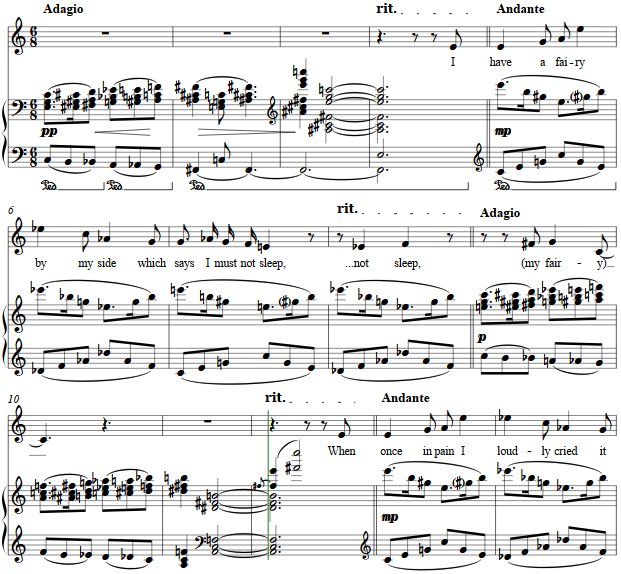 The score for My Fairy is available as a free PDF download, though any major commercial performance or recording of the work is prohibited without prior arrangement with the composer. Click on the graphic below for this piano-vocal score.