Love is a bubble - (2012)

Pearl Mary Teresa Craigie
for medium voice and piano
---
Love is a bubble,
Love is a trouble,
Love is a sigh,
And love is a grin.
Love is sweet honey,
Love is cold money,
Love is a lie,
And love is a sin.

Love is a jig --
So tread you a measure;
Love is a dirge --
So fill you with grief;
Love is bright wine --
To quicken your pleasure;
Love's the North Wind --
And Man the dead leaf.
2 pages, circa 1' 20"
---

Pearl Mary Teresa Craigie
Pearl Mary Teresa Craigie (1867-1906) was an English-born, American novelist and dramatist who wrote under the pen-name of John Oliver Hobbes.

The short poem has been set by Arthur Foote, but generally this poet has been unnoticed by composers, as best I was able to learn. The lightly acid tenor of the text amused me, as she places contrary concepts of love side by side. I had scrawled my own rhyme to quite a similar theme, though more comic. My text, Love, is the last of Three Songs for Roger. This song setting was jotted down in less than an hour on a sunny spring Saturday. The dark humor of the text and especially its reference to a jig suggested a form of repeats, ||:A:|| |:B:|| A, with light syncopation accenting the text's declaration. "Love is a bubble." Pop.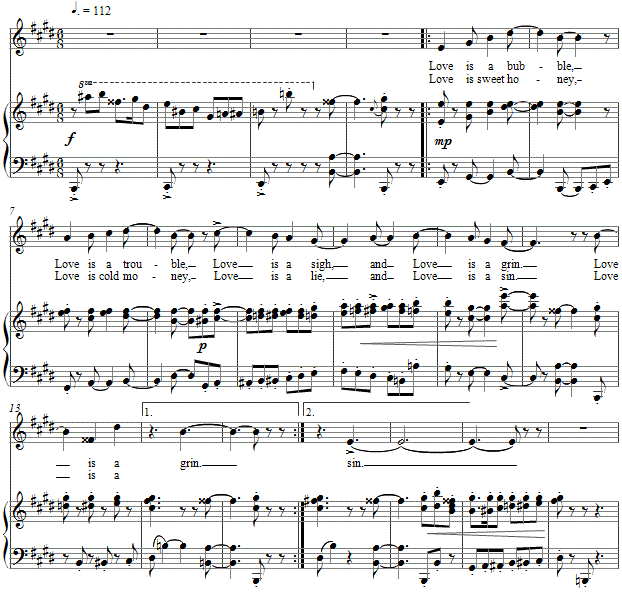 The score is available as a free PDF download, though any major commercial performance or recording of the work is prohibited without prior arrangement with the composer. Click on the graphic below for this piano-vocal score.