Losses - (2103)

Carl Sandburg
for medium or low voice and piano
---
I have love
And a child,
A banjo
And shadows.
(Losses of God,
All will go
And one day
We will hold
Only the shadows.)
1 page, circa 1' 00"
---

Carl Sandburg
The text is found in the collection, Chicago Poems (1916). For other settings of Sandburg's poems, click here.

vocal ranges for medium and low keys
This simple, short setting is made up of augmented triads at the unison and a transposition above of a twelfth. For the inference of the whole tone scale, the chord successions and vocal line are consistently this as well, as the text tells of a known future in sweet and yet foreboding small and enormously important details.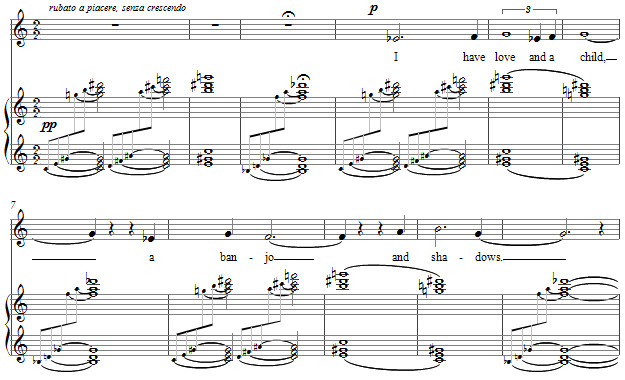 The score for Losses is available as a free PDF download, though any major commercial performance or recording of the work is prohibited without prior arrangement with the composer. Click on the graphic below for this piano-vocal score.