Lob der Faulheit - (2010)

Gotthold Ephraim Lessing
for medium voice and piano
---
Faulheit, jetzo will ich dir
Auch ein kleines Loblied bringen. –
O -- wie -- sau -- er -- wird es mir, --
Dich -- nach Würden -- zu besingen!
Doch, ich will mein Bestes tun,
Nach der Arbeit ist gut ruhn.

Höchstes Gut! wer dich nur hat,
Dessen ungestörtes Leben --
Ach! -- ich -- gähn' -- ich -- werde matt --
Nun -- so -- magst du -- mir's vergeben,
Daß ich dich nicht singen kann;
Du verhinderst mich ja dran.
[ 2 pages, circa 3' 00" ]
---

Gotthold Ephraim Lessing
Laziness - I must finally write for you
also a little paean!
Oh! ...how ... annoying ... it will be for me
[to think of how] to celebrate your worth!
But I will do my best,
for after hard work, rest is good.

Highest good - whoever possesses you
will have an undisturbed life...
alas! I'm yawning... I'm ... growing dull.
Now you must forgive me
if I cannot sing about you:
you are hindering me yourself!
Translation from German to English copyright © by Emily Ezust, reprinted with kind permission.
See The Lied and Art Song Texts Page.

Marked "lazily, tongue-in-cheek," the accompaniment's gestures fold inward from a wider spacing, and then they repeat beginning on the mediant as introduction. Thereafter they simply continue to droop in octave displacement until the second verse which begins the whole shebang up an octave. The setting ends with an expected whimper. I included all the warnings of flats and sharps to naturals, so that the pianist would not work too hard.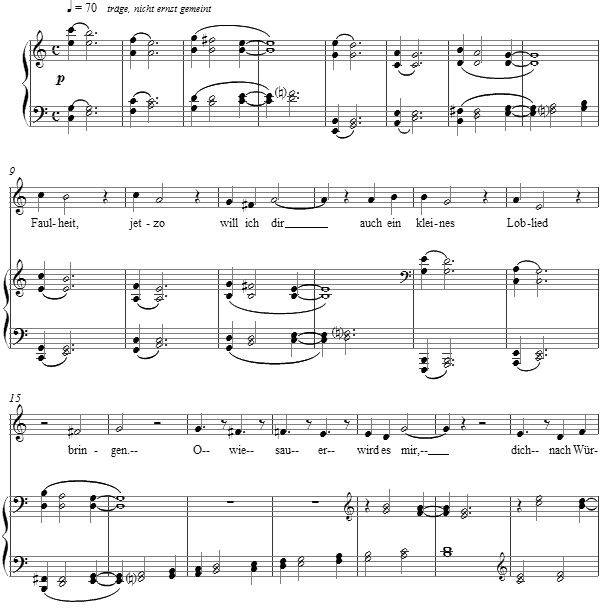 The score is available as a free PDF download, though any major commercial performance or recording of the work is prohibited without prior arrangement with the composer. Click on the graphic below for this piano-vocal score.