Loam - (2013)

Carl Sandburg
for mezzo soprano and piano
---
In the loam we sleep,
In the cool moist loam,
To the lull of years that pass
And the break of stars,

From the loam, then,
The soft warm loam,
We rise: To shape of rose leaf,
Of face and shoulder.

We stand, then,
To a whiff of life,
Lifted to the silver of the sun
Over and out of the loam
A day.
2 pages, circa 2' 30"
---

Carl Sandburg
The text is found in Sandburg's collection, Cornhuskers (1918). For other settings of his texts, click here.

After a short introduction, gentle, six-note chords underpin a simple melody. Phrases repeat to clarify in the context of a poem as song lyric to connect the ideas, as the poem-in-structure is in fact but two long sentences. Sandburg suspends time in a manner of speaking for speaking of our sleep before our rise, if only for "a day" in the sight of eternity measured in "years that pass" and "the break of stars."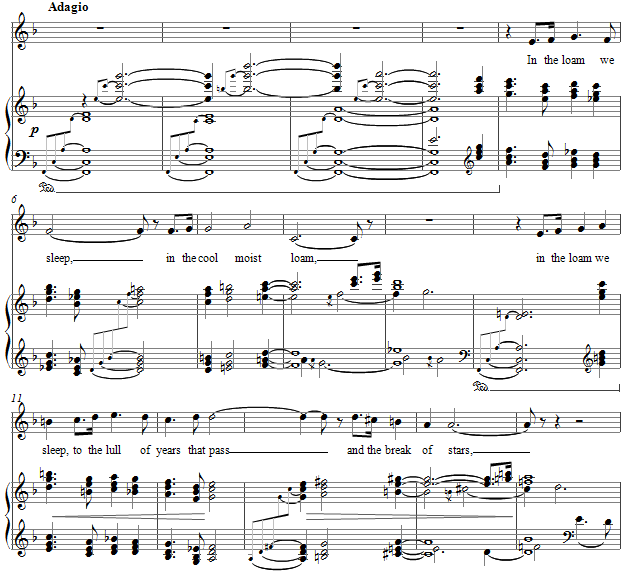 The score for Loam is available as a free PDF download, though any major commercial performance or recording of the work is prohibited without prior arrangement with the composer. Click on the graphic below for this piano-vocal score.