Little Love Poems - (2011)

Joseph Seamon Cotter, Jr.
for baritone and piano
---
i. Inconstancy

Blue eyes, gray eyes,
All the eyes that be,
Hold within their changing depths
Wealth of charm to me.

Dark-eyed maid, of moment's fancy,
Gay as stars above;
Is it you that I adore,
Or is it Love I love?

ii. Love

Love is the soothing voice of gods
To which men ever list.
Love is the ease of soul's travail
And sorrow's alchemist.

iii. Memories

The burnished glow of the old-gold moon
Shines brightly over me.
A thousand stars, like a thousand isles
In a dark and placid sea,
Bring memories of a golden night,
Bedecked in Autumn's hue
And fragrant with the lilac's bloom,
That brought me joy--and you.
[ 3 pages, circa 3' 10" ]
---

Joseph Seamon Cotter, Jr.
The texts come from The Band of Gideon and Other Lyrics (1918). As the verses were short, I chose to set them, each a song to a page, segueing from one to the next as a unified, miniature cycle.

The first, "Inconstancy," shifts unsettling harmonies through common tone relationships, telling the tale oft told, of being "in love with love."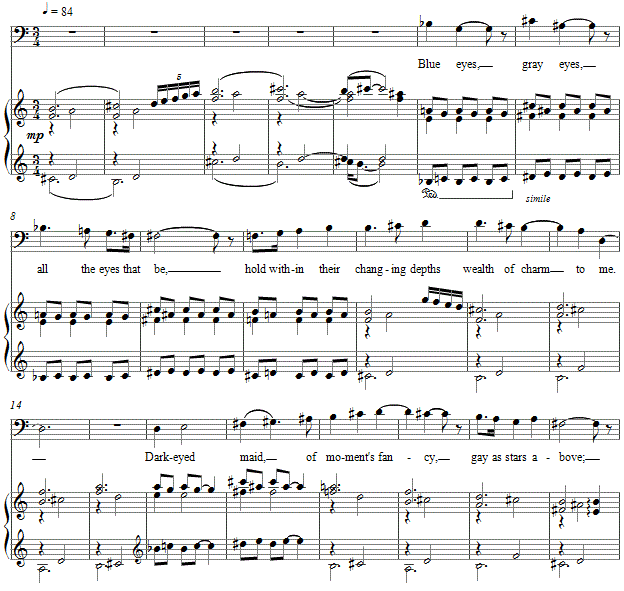 The second, "Love," is a short set of two verses, contrasting to the opening's darker tone.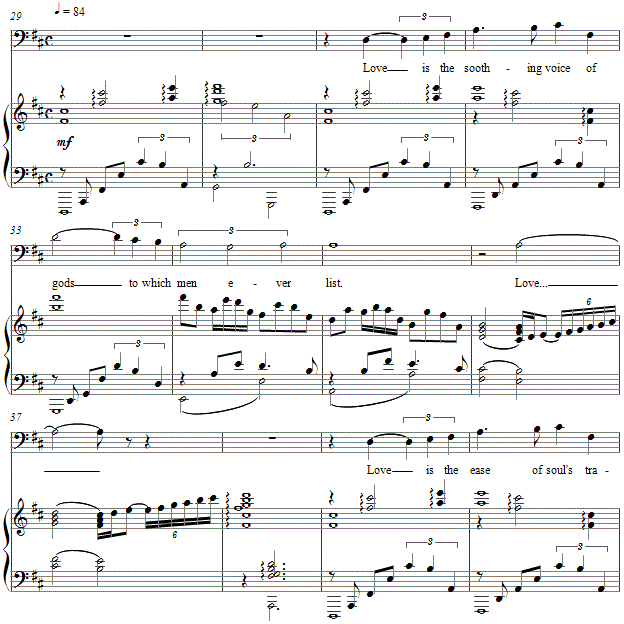 The third, "Memories," looks back, recreating a scene in a romance of words forming visual imagery.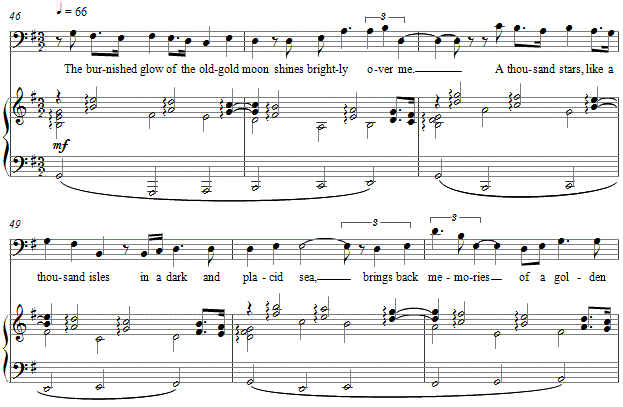 As the memories are savored, the "you" of which the first texts speaks is musically recalled, bringing this short cycle back to perhaps that "dark-eyed maid" as among the first objects of love such as this.

The score for Little Love Poems is available as a free PDF download, though any major commercial performance or recording of the work is prohibited without prior arrangement with the composer. Click on the graphic below for this piano-vocal score.