Henry Purcell - (2014)

Gerard Manley Hopkins
for medium voice and piano
---
Have, fair fallen, O fair, fair have fallen, so dear
To me, so arch-especial a spirit as heaves in Henry Purcell,
An age is now since passed, since parted; with the reversal
Of the outward sentence low lays him, listed to a heresy, here.

Not mood in him nor meaning, proud fire or sacred fear,
Or love or pity or all that sweet notes not his might nursle:
It is the forgèd feature finds me; it is the rehearsal
Of own, of abrupt self there so thrusts on, so throngs the ear.

Let him Oh! with his air of angels then lift me, lay me! only I'll
Have an eye to the sakes of him, quaint moonmarks, to his pelted plumage under
Wings: so some great stormfowl, whenever he has walked his while

The thunder-purple seabeach plumèd purple-of-thunder,
If a wuthering of his palmy snow-pinions scatter a colossal smile
Off him, but meaning motion fans fresh our wits with wonder.
5 pages, circa 5' 00"
---

Henry Purcell
This tribute to the composer by a poet of another age is filled with strange imagery, part dirge and part joyous paean. Of this alexandrine written in Oxford, April 1879, Hopkins wrote, "The poet wishes well to the divine genius of Purcell and praises him that, whereas other musicians have given utterance to the moods of man's mind, he has, beyond that, uttered in notes the very make and species of man as created both in him and in all men generally." Of some of the imagery, Hopkins wrote, "The thought is that as the seabird opening his wings with a whiff of wind in your face means the whirr of the motion, but also unaware gives you a whiff of knowledge about his plumage, the marking of which stamps his species, that he does not mean, so Purcell, seemingly intent only on the thought or feeling he is to express or call out, incidentally lets you remark the individualising marks of his own genius."
For other settings of Hopkins' texts, click here.

The first section is a simple pendulum between chords, spaced across the keyboard over which the lines are declared as elegy. The first, four-line strophes are similar in accompaniment while the vocal line alters.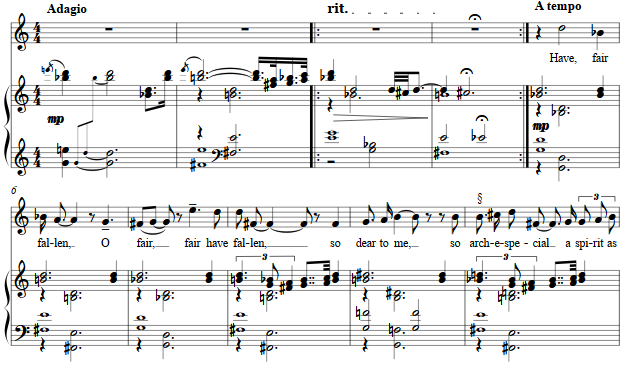 A next section for the three-line stanzas rests on a quotation from Purcell, the so-called "Bell Anthem," for the introduction which precedes his verse anthem, "Rejoice in the Lord always," Z. 49, c. 1682–85. Several phrases of the text repeat, to stress "his air of angels" and the enthusiasm of "so throngs the ear."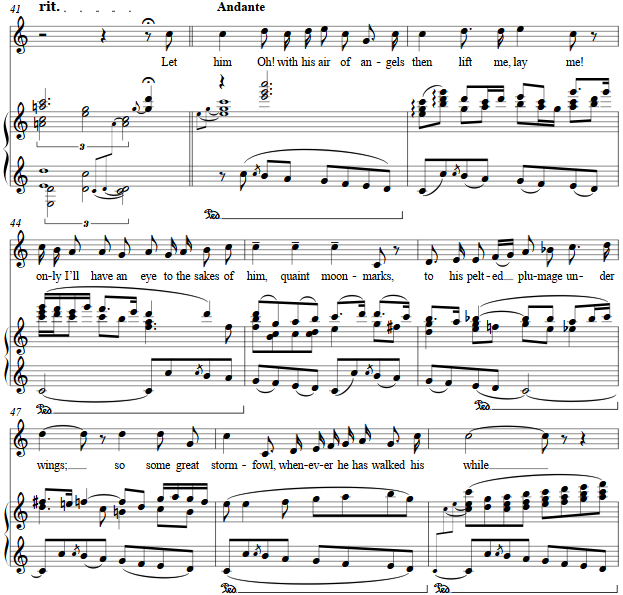 The score for Henry Purcell is available as a free PDF download, though any major commercial performance or recording of the work is prohibited without prior arrangement with the composer. Click on the graphic below for this piano-vocal score.