Für ewig - (2009)

Wolfgang Amadeus Mozart
for high voice and piano
---
Denn was der Mensch in seinen Erdeschranken
Von hohem Glück mit Götternamen nennt:
Die Harmonie der Treue, die kein Wanken,
Der Freundschaft, die nicht Zweifelsorge kennt;
Das Licht, das Weisen nur zu einsamen Gedanken,
Das Dichtern nur in schönen Bildern brennt?
Das hatt' ich all, in meinen besten Stunden,
In ihr entdeckt und es für mich gefunden.
[ 2 pages, circa 2' 10" ]
---

Wolfgang Amadeus Mozart
What shall the man in his earthly bounds call
By good fortune and with the names of the gods:
That harmony of faith which does not waver,
That friendship that knows no single doubt;
That light, the only pathway to solitary thoughts,
That beauty of vision with which poets are on fire?
All these I have had, in the best in my times,
Uncovered and for me found.

I see this text as an artist's prayer, in which even as great a genius as Mozart sees as the blessings to artists of visions of beauty, faith and friendship. For this, the lyricism of the vocal line is underscored by gentle second inversion chords in a sometime diatonic polytonal texture. The form is a simple two verse hymn, for it is indeed a prayer.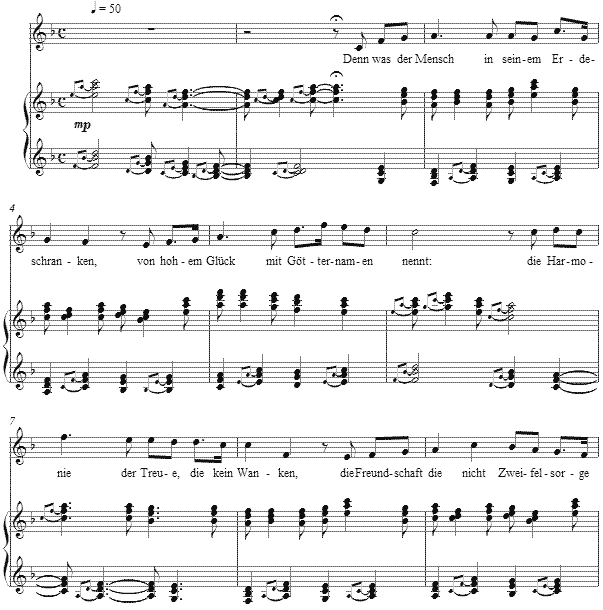 The score is available as a free PDF download, though any major commercial performance or recording of the work is prohibited without prior arrangement with the composer. Click on the graphic below for this piano-vocal score.