Fuchs und Bär - (2007)

Matthias Claudius
for medium or low voice and piano
---
Kam einst ein Fuchs vom Dorfe her,
Früh in der Morgenstunde,
Und trug ein Huhn im Monde;
Und es begegnet' ihm ein Bär.
»Ah! guten Morgen, gnäd'ger Herr!
Ich bringe hier ein Huhn für Sie;
Ihr Gnaden promenieren ziemlich früh,
Wo geht die Reise hin?«
»Was heißest du mich gnädig, Vieh!
Wer sagt dir, daß ichs bin?«
»Sah Dero Zahn, wenn ich es sagen darf,
Und Dero Zahn ist lang und scharf!«
[ 3 pages, circa 2' 00" ]
---

Matthias Claudius
When weighing power, the dominant is a relative issue. To the chicken in the story, the fox was definitely at the top of the "food chain," but the fox is clever and immediately recognizes that the bear has the greater power and cedes the chicken to it.

The bottom of the four part writing sometimes doubles the top voice in the manner of a fauxbordun and as seen later in Puccini's scoring. Sometimes the four voices are all independent. As the "crawling voices" are meant to hint, the fox's character is less than stalwart. The augmented melodic second echoes Ashkenazic and other cultures' music to color the storytelling further.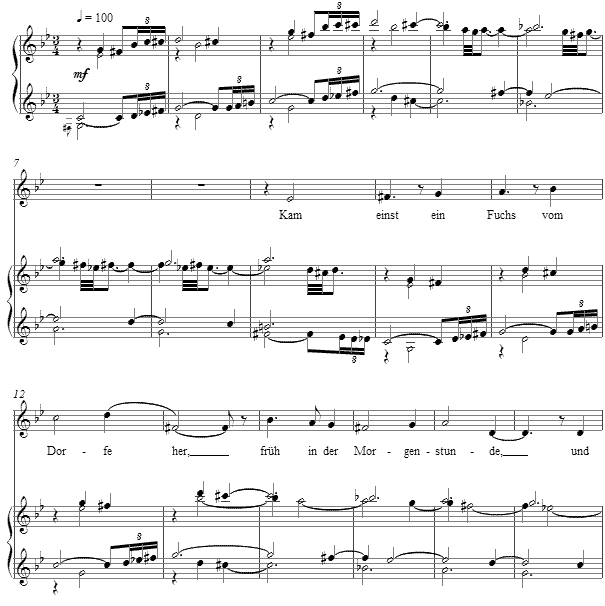 The end of this short setting chews away at the tonality with dissonant scalar sevenths and raised fourths, for the end of all tales about contending powers are ultimately tales of violence. For the chicken, this is certainly true.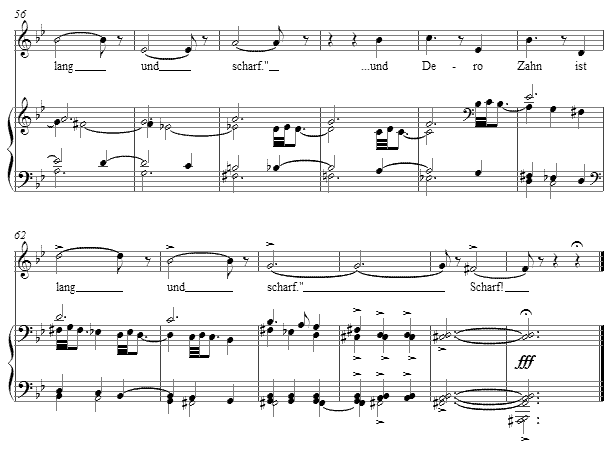 The score for Fuchs und Bär is available as a free PDF download, though any major commercial performance or recording of the work is prohibited without prior arrangement with the composer. Click on the graphic below for this piano-vocal score.