Frühlingsglaube - (2007)

Ludwig Uhland
for violin, soprano and piano
---
Marlene Wick gewidmet

Die linden Lüfte sind erwacht,
Sie säuseln und weben Tag und Nacht,
Sie schaffen an allen Enden.
O frischer Duft, o neuer Klang!
Nun, armes Herze, sei nicht bang!
Nun muß sich alles, alles wenden.

Die Welt wird schöner mit jedem Tag,
Man weiß nicht, was noch werden mag,
Das Blühen will nicht enden.
Es blüht das fernste, tiefste Tal:
Nun, armes Herz, vergiß der Qual!
Nun muß sich alles, alles wenden.
[ 5 pages, circa 4' 40" ]
---

Ludwig Uhland
Ludwig Uhland was born in 1787 in Tubingen, and there in the university he studied law and languages. Together with other friends and fellow students, Uhland worked during his studies for the Morgenblatt für gebildete Stände, a Sunday publication. During studies in Paris in 1810-1811), he busied himself with old French and German manuscripts. From 1810-1814 he served as Secretary in the Ministry of Justice, and then as an attorney in Stuttgart. In 1829 he became Professor of German language and literature in Tubingen. In 1838 he gave up his position with the university and rather preferred to work privately as a teacher.
Uhland died in Tubingen in1862.

The lime wood scented breezes are awakened,
they murmur and weave about day and night,
they make to all things an end.
O fresh fragrance, o new sound!
Now, my poor heart, be not anxious!
Now must everything turn about.
The world is more beautiful with each day,
one know not, what might be,
the blossoming shall not end.
It blooms it the furthest, deepest valley:
Now, my poor heart, forget the suffering!
Now must everything turn about.
Composed for violin, soprano and piano, the violin obbligato introduces the the voice with a short meditative gesture of "blossoming," after which the song takes up from the violin, the blurring chords of the keyboard coloring the text's sweetness.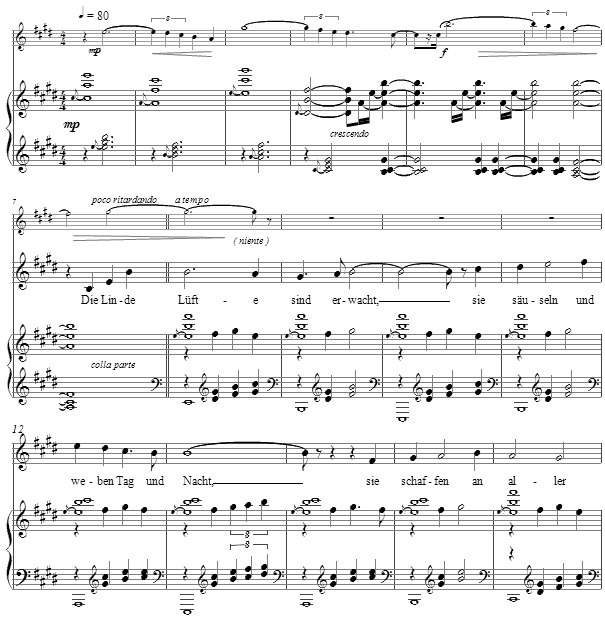 The second portion of each strophe is heightened by a poco pìu mosso and the rising vocal line, to reinforce the sense of freshness in the air, that of which the poet speaks in his "belief" grounded in the return of springtime.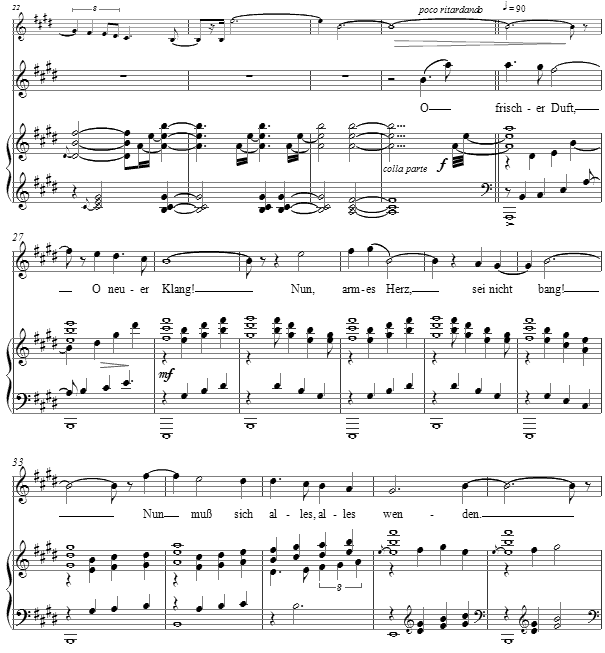 Marlene Wick
After a fine career as lyric soprano in the DDR, Marlene and husband found their way to Aachen, where she now most masterfully calls many of the shows' cues, from entrances to curtains to subtitles. Generous of spirit and lovely, this short setting is for her in appreciation of her courtesies to me while there.
The score to Frühlingsglaube is available as a free PDF download, though any major commercial performance or recording of the work is prohibited without prior arrangement with the composer. The violin part is attached at the end of the file, as a separate score. Click on the graphic below for this piano-vocal score.