Freude - (2008)

Joachim Ringelnatz
for high or medium voice
---
Freude soll nimmer schweigen.
Freude soll offen sich zeigen.
Freude soll lachen, glänzen und singen.
Freude danken ein Leben lang.
Freude soll dir die Seele durchschauern.
Freude soll weiterschwingen.
Freude soll dauern
Ein Leben lang.
[ 2 pages, circa 1' 00" ]
---

Joachim Ringelnatz
Joy shall never be silent.
Joy shall frankly display itself.
Joy shall laugh, shine and sing.
Joy shall be thankful throughout a life.
Joy shall open to you the soul.
Joy shall linger long.
Joy shall abide
Through a lifetime.

tessitura for high voice
The short setting simply declaims the text with a "wedding cake" accompaniment beneath, its occasional raised fourth degree of the scale being a little spice and laughter within the predictable major tonality. It is s short song form seemingly in two verses out of Ringelnatz' single verse, with the sequence as the bridge material.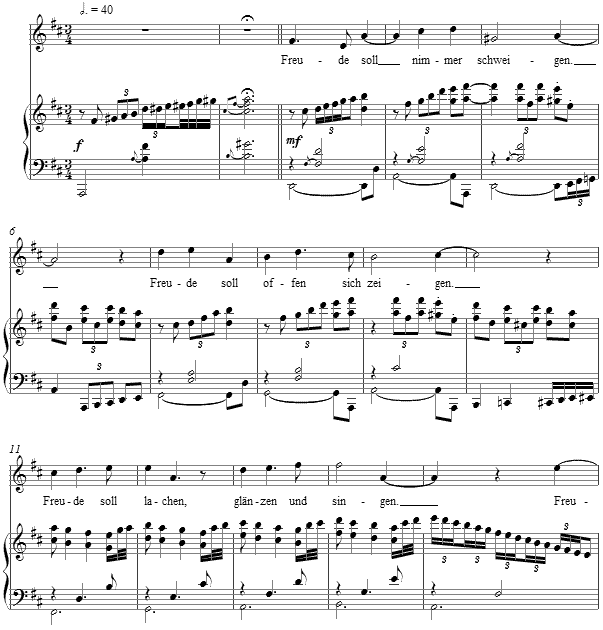 The score for Freude is available as a free PDF download in high or medium key, though any major commercial performance or recording of the work is prohibited without prior arrangement with the composer. Click on the graphic below for this piano-vocal score.


A short cycle of Ringelnatz' texts is titled Strumpfsinn Lieder (2006) for high voice, and a single humorous song is titled Fliege und Wanze (2006), also for high voice.