Freibeuter - (2010)

Johann Wolfgang Goethe
for medium voice and piano
---
Mein Haus hat kein Tür,
Mein Tür hat ke Haus;
Und immer mit Schätzel
Hinein und heraus.

Mei Küch hat ke Herd,
Mei Herd hat ke Küch;
Da bratets und siedets
Für sich und für mich.

Mei Bett hat ke G'stell,
Mei G'stell hat ke Bett;
Doch wüßt ich nit enen,
Ders lustiger hett.

Mei Keller is hoch,
Mei Scheuer is tief;
Zu oberst zu unterst --
Da lag ich und schlief.

Und bin ich erwachen,
Da geht es so fort;
Mei Ort hat ke Bleibens,
Mei Bleibens ken Ort.
[ 2 pages, circa 1' 15" ]
---

Johann Wolfgang Goethe
The Freeloader
My house has no door,
My door has no house;
And always with lovers
I'll fly like a louse.

My kitchen? No stove,
My stove in no home;
It broils and boils
Where ever I roam.

My bed has no legs,
My legs have no bed;
But I know of nothing
That's more fun instead.

My cellar is high,
My store place is deep,
From upstairs to downstairs,
I lie there and sleep.

And when I awaken,
I stay on the move;
My call is to wander,
Now who'll disapprove?
Rhymed paraphrase by the composer

The many stanzas of this parody text from Goethe's Weimar period of 1823-1828 are treated in a classical manner, with repeats and related gestures. Even so it is lightly comical, though the character of the freeloader himself is less than fine. A personality-filled interpretation of the setting is recommended.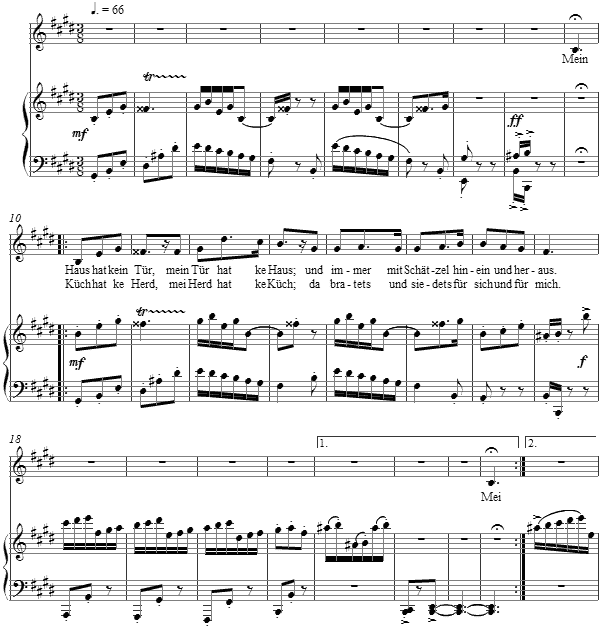 The last stanza breaks for a moment with the 3/8 for essentially an "extended" 3/8 wherein the second stress of the measure is elongated for a few measures into duple meter. Nonetheless the setting returns -- like the habits of a recidivist freeloader -- to its triple meter and brief ending.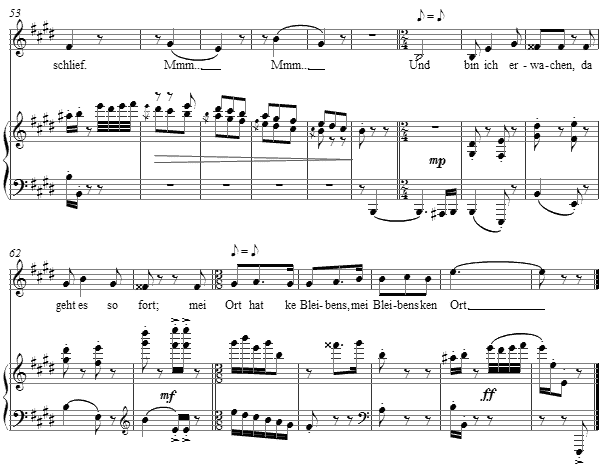 The score for Freibeuter is available as a free PDF download, though any major commercial performance or recording of the work is prohibited without prior arrangement with the composer. Click on the graphic below for this piano-vocal score.