Four Songs of Gerard Manley Hopkins - (1999)

for soprano and piano
---
for our friend and colleague, soprano Elizabeth Connell
to Liza, in memoriam (2012)
i. Pied Beauty [ circa 2' 10" ]
Glory be to God for dappled things -
For skies of couple-colour as a brindled cow;
For rose-moles in all stipple upon trout that swim;
Fresh-firecoals chestnut-falls; finches' wings;
Landscape plotted and pieced - fold, fallow, and plough;
And áll trádes, their gear and tackle and trim.

All things counter, original, spare, strange;
Whatever is fickle, freckled (who knows how?)
With swift, slow; sweet, sour; adazzle, dim;
He fathers-forth whose beauty is past change:
Praise him.
ii. God's Grandeur [ circa 4' 05" ]
The world is charged with the grandeur of God.
It will flame out, like shining from shook foil;
It gathers to a greatness, like the ooze of oil
Crushed. Why do men then now not reck his rod?
Generations have trod, have trod, have trod;
And all is seared with trade; bleared, smeared with toil;
And wears man's smudge and shares man's smell; the soil
Is bare, nor can foot feel, being shod.

And for all this, nature is never spent;
There lives the dearest freshness deep down things;
And though the last lights off the black West went
Oh, morning, at the brown brink eastward, springs -
Because the Holy Ghost over the bent
World broods with warm breast and with ah ! bright wings.
iii. Spring [ circa 3' 15" ]
Nothing is so beautiful as Spring
When weeds, in wheels, shoot long and lovely and lush;
Thrush's eggs look little low heavens, and thrush
Through the echoing timber does so rinse and wring
The ear, it strikes like lightnings to hear him sing;
The glassy peartree leaves and blooms, they brush
The descending blue; that blue is all in a rush
With richness; the racing lambs too have their fling.

What is all this juice and all this joy?
A strain of the earth's sweet being in the beginning
In Eden garden. - Have, get, before it cloy,
Before it cloud, Christ, lord, and sour with sinning,
Innocent mind and Mayday in girl and boy,
Most, O maid's child, thy choice and worthy the winning.
iv. To Call Thee Love [ circa 2' 15" ]
Let me be to Thee as the circling bird,
Or bat with tender and air-crisping wings
That shapes in half-light his departing rings,
From both of whom a changeless note is heard.

I have found my music in a common word,
Trying each pleasurable throat that sings
And every praisèd sequence of sweet strings,
And know infallibly which I preferred.

The authentic cadence was discovered late
Which ends those only strains that I approve,
And other science all gone out of date
And minor sweetness scarce made mention of:
I have found the dominant of my range and state -
Love, O my God, to call Thee Love and Love.
Total duration [ circa 11' 45" ]
---

Gerard Manley Hopkins
Gerard Manley Hopkins (1844-1889) was an English poet and Jesuit priest, one of the most individual of Victorian writers who also was amateur painter and composer late in his life. His poetry was not published in collected form until 1918, but it influenced many leading 20th-century poets. Hopkins' philosophy emphasized the individuality of every natural thing, which he called "inscape."
For Hopkins, each sensuous impression had its own elusive "selfness." Each scene was to him a "sweet especial scene." His exploitation of the verbal subtleties and music of English, of the use of echo, alliteration, and repetition, and a highly compressed syntax were all in the interest of projecting deep personal experiences, including his sense of God's mystery, grandeur, and mercy, and his joy in "all things counter, original, spare, strange" as he wrote in "Pied Beauty" which opens this cycle of four songs with "Glory be to God...."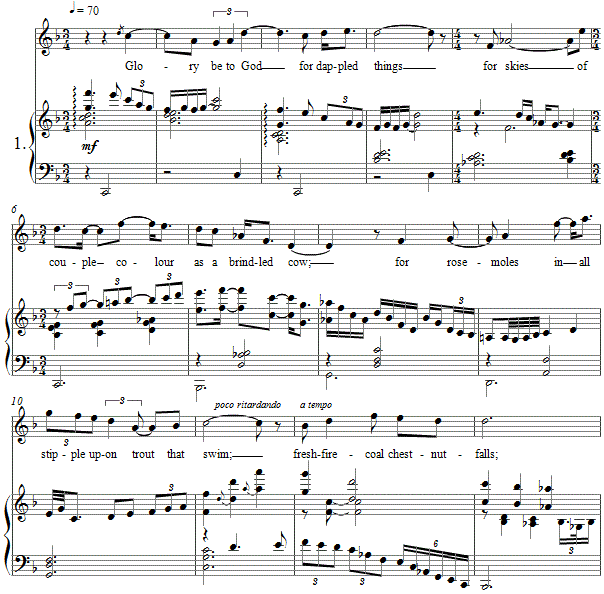 Liza Connell
These texts were suggested by Liza Connell, South African soprano well known for her performances of Isolde, Leonora and so many other lead roles in the dramatic Fach. In appreciation for her work and for our pleasant time spent together in San Francisco and on days off touring the Monterey Peninsula, I offered to compose songs to some of her favorite texts. She recalled her youthful education in a Catholic school where she had become acquainted with the poet, and presented me only a day later with an anthology of Gerard Manley Hopkins. She had checked off several titles in the table of contents, and penned a sweet note about her favorite texts. I chose these four for a cycle for her, and "Felix Randal" for a separate setting, so different is its mood from these uplifting texts.
In the course of the years, we saw Liza frequently, last time having her over for lunch and a gossip fest during her work at the Staatsoper unter den Linden. Liza passed away in London, and this re-engraving is to honor her memory.
The last text, "To Call Thee Love," is set for SATB chorus as well, so apt do its sense and words match that sound.
The score is available as a free PDF download, though any major commercial performance or recording of the work is prohibited without prior arrangement with the composer. Click on the graphic below for this piano-vocal score.

Four Songs of Gerard Manley Hopkins