Forever - (2012)

Paul Laurence Dunbar
for medium voice and piano
---

I had not known before
Forever was so long a word.
The slow stroke of the clock of time
I had not heard.

'Tis hard to learn so late;
It seems no sad heart really learns,
But hopes and trusts and doubts and fears,
And bleeds and burns.

The night is not all dark,
Nor is the day all it seems,
But each may bring me this relief --
My dreams and dreams.

I had not known before
That Never was so sad a word,
So wrap me in forgetfulness --
I have not heard.
2 pages, circa 3' 00"
---

Paul Laurence Dunbar
The text is found in Dunbar's collection, Lyrics of Love and Laughter (1903), available at the very fine Wright State University Libraries online Dunbar Collection. For other song settings of Dunbar's texts, click here.
The

Four strophes are handled with some small variation for each, a small moment between, and some melodic variation in part to heighten word emphasis and textual meaning.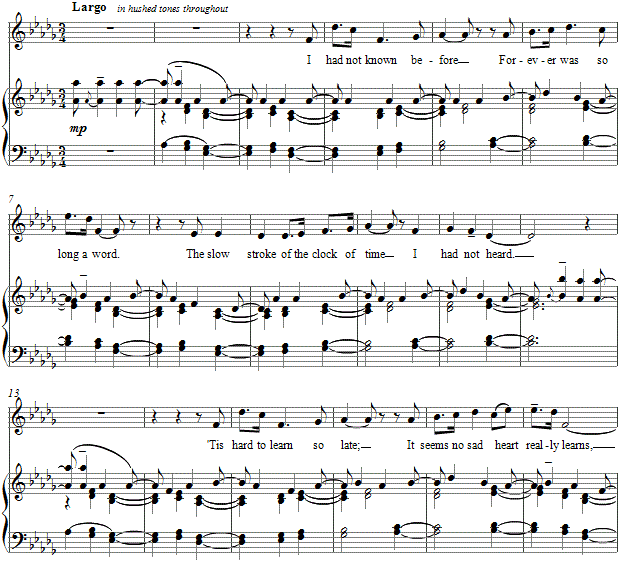 The score for Forever is available as a free PDF download, though any major commercial performance or recording of the work is prohibited without prior arrangement with the composer. Click on the graphic below for this piano-vocal score.