Five Sonnets - (2000)

William Shakespeare
for high or medium voice and piano
---
i. Sonnet VIII - "Music to hear, why hear'st thou music sadly?" [ 3 pages, circa 2' 20" ]

Music to hear, why hear'st thou music sadly?
Sweets with sweets war not, joy delights in joy:
Why lov'st thou that which thou receiv'st not gladly,
Or else receiv'st with pleasure thine annoy?
If the true concord of well-tuned sounds,
By unions married, do offend thine ear,
They do but sweetly chide thee, who confounds
In singleness the parts that thou shouldst bear.
Mark how one string, sweet husband to another,
Strikes each in each by mutual ordering;
Resembling sire and child and happy mother,
Who, all in one, one pleasing note do sing:
Whose speechless song, being many, seeming one,
Sings this to thee: 'Thou single wilt prove none.''

ii. Sonnet XVIII - "Shall I compare thee to a summer's day?" [ 3 pages, circa 2' 35" ]

Shall I compare thee to a summer's day?
Thou art more lovely and more temperate:
Rough winds do shake the darling buds of May,
And summer's lease hath all too short a date:
Sometime too hot the eye of heaven shines,
And often is his gold complexion dimm'd;
And every fair from fair sometime declines,
By chance, or nature's changing course untrimm'd;
But thy eternal summer shall not fade,
Nor lose possession of that fair thou ow'st,
Nor shall death brag thou wander'st in his shade,
When in eternal lines to time thou grow'st;
So long as men can breathe, or eyes can see,
So long lives this, and this gives life to thee.

iii. Sonnet XIX - "Devouring Time" [ 3 pages, circa 2' 15" ]

Devouring time, blunt thou the lion's paws,
And make the earth devour her own sweet brood;
Pluck the keen teeth from the fierce tiger's jaws,
And burn the long-lived phoenix in her blood.
Make glad the sorry seasons as thou fleets,
As do whate'er thou wilt, swift-footed time,
To the wide world and her fading sweets;
But I forbid thee one most heinous crime;
O! Carve not with thy hours my love's fair brow,
Nor draw no lines there with thine antique pen;
Him in thy course untainted do allow
For beauty's pattern to succeeding men.
Yet do thy worst, old time: despite thy wrong,
My love shall in my verse ever live young.

iv. Sonnet XXX - "When to the sessions of sweet silent thought" [ 3 pages, circa 2' 15" ]

When to the sessions of sweet silent thought
I summon up remembrance of things past,
I sigh the lack of many a thing I sought,
And with old woes new wail my dear times' waste:
Then can I drown an eye, unus'd to flow,
For precious friends hid in death's dateless night,
And weep afresh love's long since cancell'd woe,
And moan the expense of many a vanish'd sight:
Then can I grieve at grievances foregone,
And heavily from woe to woe tell o'er
The sad account of fore-bemoaned moan,
Which I new pay as if not paid before.
But if the while I think on thee, dear friend,
All losses are restor'd and sorrows end.

v. Sonnet LXVI - "Tir'd with all these, for restful death I cry" [ 3 pages, circa 2' 45" ]

Tir'd with all these, for restful death I cry
As to behold desert a beggar born,
And needy nothing trimm'd in jollity,
And purest faith unhappily forsworn,
And gilded honour shamefully misplac'd,
And maiden virtue rudely strumpeted,
And right perfection wrongfully disgraced,
And strength by limping sway disabled,
And art made tongue-tied by authority,
And folly—doctor-like—controlling skill,
And simple truth miscall'd simplicity,
And captive good attending captain ill:
Tir'd with all these, from these would I be gone,
Save that, to die, I leave my love alone.
Total cycle [ 15 pages, circa 12' 10" ]
---

William Shakespeare
For this set of sonnets, I chose some of my favorites from among yet more favorite texts than the limitation of five would allow. The moods are differing, save that for each there is an element of love for another -- whether it be the one nearby, the one distant, or the one long gone in the sweep of time, the friend as much as the lover. The feature then which joins these sonnets of loving together is, as the bard instructs us, music - the music which fumblingly captures images of love and loving.

The first of these settings is a straight-forward query into how we must hear music -- as an expression of love and loving. The images which Shakespeare chooses to employ are ones of the family, and even the subtle dissonance which underscores a "sweet" chiding.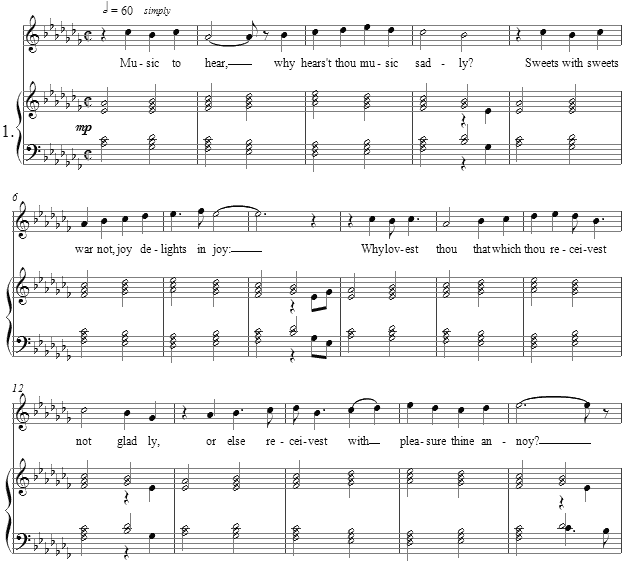 This favorite sonnet of so many has been set repeatedly in classical as well as popular genres of music. I chose to highlight the threats to love as Shakespeare paints word images of "rough winds" and his complaint that "summer's lease hath all too short a date." It is our complaint as well, is it not?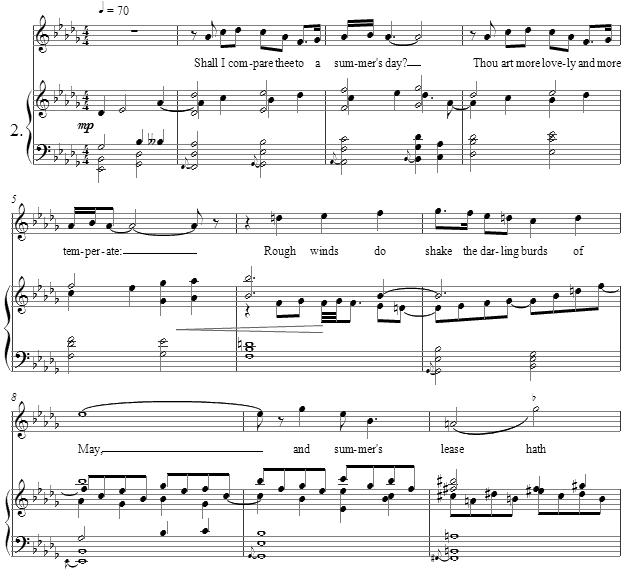 Given the foregoing image of time's "lease" being too short, this sonnet speaks to the same awareness of our few years of life, seen from the span of a civilization's life span. The address is to time itself, a personal appeal and challenge, to make an exception for the object of one's love. Of course, this is true in the subjective perspective of any individual whose "rose colored glasses" dim the effects of time on the object of one's love, whether it be lover, parent, sibling or even child. "Devouring time" is in this way managed, blunted and forestalled, if temporarily. Such is our life; such is our love.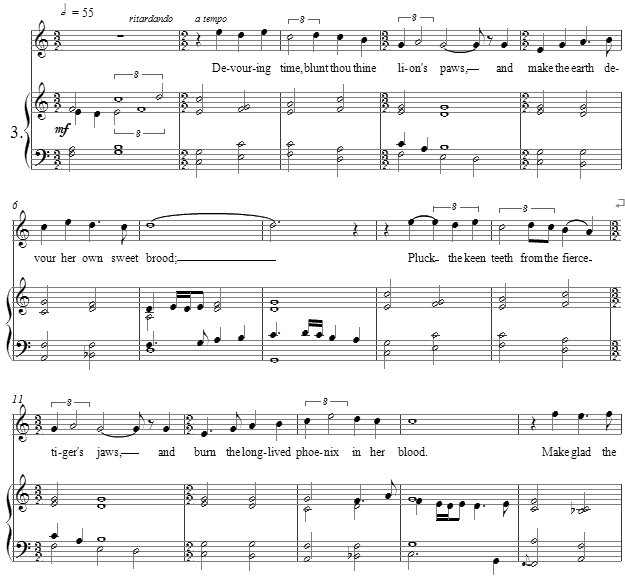 As companion to and subsequent follower to Sonnet XIX, this sweet 3/4 time reflection on experiences and loves time as seen from the perspective of time's passage seemed to me as the next step in thinking through Shakespeare's notions of time and love -- hindsight, reflection, memory. By such sensible reflection, losses can be restored and sorrows do indeed end.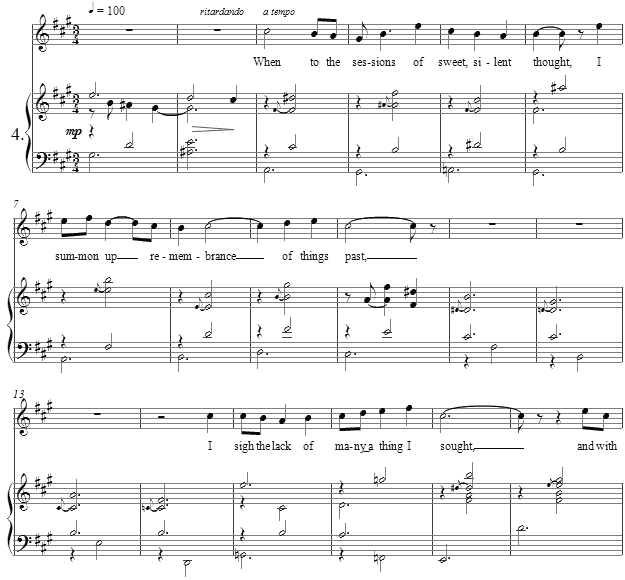 The last sonnet and its musical setting might seem to challenge "Music to hear, why hear'st thou music sadly?" This question resonates in the setting of Sonnet LXVI, as the litany of those failings of the human spirit and civil behaviors are set forth. Such a clear and forceful list of human frailties are worth surveying, for Shakespeare's images resonate in this day as they must have in his own era. What of "gilded honor shamefully misplaced?" What of "maiden virtue rudely strumpeted?"
For me, the bard sets before us a direct challenge as artists, when he inquires of "art made tongue-tied by authority." Far too much could be said of this one query alone, though that is for another time and an essay too long for this purpose. But I cannot stress the wondrously worded question of "captive good attending captain ill" as relates to our seemingly modern age. We are so clearly reminded, in this sonnet of love, that all such human ills and foibles are not enough to offset the wonder of love. For this the seemingly minor key last phrase is not a reinforcement of the darker litany which preceded, but rather a quiet acceptance of all these for the sake of love.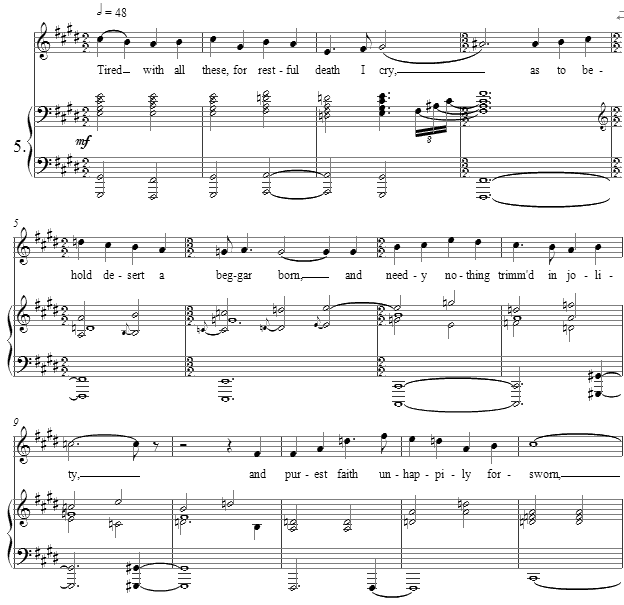 The score to Five Sonnets is available as a free PDF download, though any major commercial performance or recording of the work is prohibited without prior arrangement with the composer. The violin part is attached at the end of the file, as a separate score. Click on the graphic below for this piano-vocal score.