Dreamland - (2014)

Lewis Carroll
for medium voice and piano
---
When midnight mists are creeping,
And all the land is sleeping,
Around me tread the mighty dead,
And slowly pass away.

Lo, warriors, saints, and sages,
From out the vanished ages,
With solemn pace and reverend face
Appear and pass away.

The blaze of noonday splendour,
The twilight soft and tender,
May charm the eye: yet they shall die,
Shall die and pass away.

But here, in Dreamland's centre,
No spoiler's hand may enter,
These visions fair, this radiance rare,
Shall never pass away.

I see the shadows falling,
The forms of old recalling;
Around me tread the mighty dead,
And slowly pass away.
3 pages, circa 3' 30"
---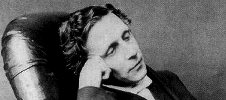 Lewis Carroll
The text is noted in various sources as "Verses written to the dream-music written down by C. E. Hutchinson of Brasenose College," in 1882. For other settings of Carroll's texts, click here.

The gentle polytonal dissonance of two voices/gestures frames the setting, as the stanzas move from tonal region to tonal region while the meter of 6/8 admits the 3/4 feeling against it. The vocal line changes with the sense of the stanzas.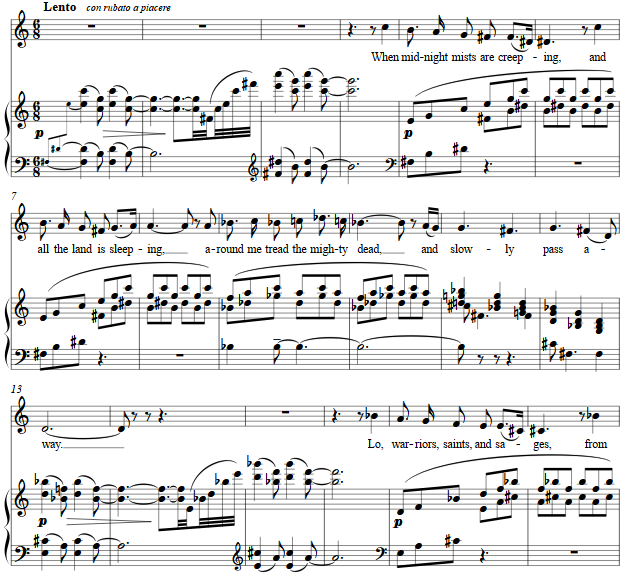 The score for Dreamland is available as a free PDF download, though any major commercial performance or recording of the work is prohibited without prior arrangement with the composer. Click on the graphic below for this piano-vocal score.