Die Zärtlichkeiten - (2006)

Stefan Zweig
for baritone and piano
---
for Peter Edelmann
Ich liebe jene ersten bangen Zärtlichkeiten,
die halb noch Frage sind und halb schon Anvertraum,
weil hinter ihnen schon die andern Stunden schreiten,
die sich wie Pfeiler wuchtend in das Leben baun.
Ein Duft sind sie; des Blutes flüchtigste Berührung,
ein rascher Blick, ein Lächeln, eine leise Hand -
sie knistern schon wie rote Funken der Verführung
und stürzen Feuergarben in der Nächte Brand.
Und sind doch seltsam süss, weil sie im Spiel gegeben
noch sanft und absichtslos und leise nur verwirrt,
wie Bäume, die dem Frühlingswind entgegenbeben,
der sie in seiner harten Faust zerbrechen wird.
[ 4 pages. circa 2' 55" ]
---

Stefan Zweig
Stefan Zweig was born in Vienna in1881, which was at the time the capital of the Austro-Hungarian Empire. This Austrian writer first studied philosophy, and then started writing poetry, dramas and translated many French works into German, as for a time he also lived in Paris. An eager pacifist, he dreamed of a united Europe; the First World War deeply disturbed. With the Second World War and because he was Jewish, he fled Austria and the Nazis in 1934.
Zweig was deeply influenced by Sigmund Freud, whose theories on psychology informed Zweig's analyses of historical figures and his subtle portrayal of fictional characters. His essays include studies of Honoré de Balzac, Charles Dickens, and Fyodor Dostoyevsky, in Three Masters (1920); and Friedrich Hölderlin, Heinrich Kleist, and Friedrich Nietzsche, in Master Builders (1925). He achieved popularity with The Tide of Fortune (1928), five historical portraits in miniature. He also wrote biographies, poetry, short stories, dramas, and a novel.
Living in exile, Zweig and his second wife went to England and then Brazil, where, lonely and disillusioned, they both committed suicide. He died by his own hand in 1942, in Petrópolis, near Rio de Janeiro, Brazil.
I love those first anxious, tender caresses,
coming in part after a question and in part after a beautiful dream,
because behind them the other hours stride,
that arise like a mighty pillar in life.
They are a scent, the blood's fleeting touch,
a quick glance, a smile, a light hand -
they rustle like red sparks of temptation
and plummet like burning sheaths in the next fire.
And all are of the same sweetness, because as in a mirror they are given
wholly gentle, and unintentional, and light only to confuse,
like trees, that turn towards trembling in the spring wind,
that will be broken in their hard fist.

The vocal line is lyrical, and the last strophe ends with a recommended falsetto, which can be such a sweet sound especially in the baritone voice. The harmonic form is rigorous yet diatonic in its polytonal chord structures, which are clarified as polytonal by their alternating spacing, open and closed.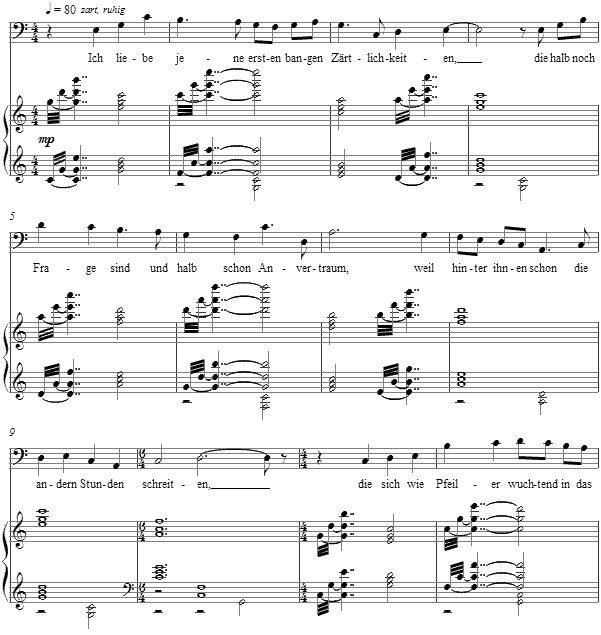 The score to Die Zärtlichkeiten is available as a free PDF download, though any major commercial performance or recording of the work is prohibited without prior arrangement with the composer. Click on the graphic below for this piano-vocal score.


Die Zärtlichkeiten - Mezzosopran

Peter Edelmann
Peter sang Phedros in the 2006 production of Der König Kandaules; during our rehearsals and many performances I enjoyed his good humor, fine singing and generosity of spirit. He is both son and student of the legendary Otto Edelmann, and has performed internationally in both opera and concert.