Dann - (2011)

Else Lasker-Schüler
for medium voice and piano
---
... Dann kam die Nacht mit Deinem Traum
Im stillen Sternebrennen.
Und der Tag zog lächelnd an mir vorbei,
Und die wilden Rosen atmeten kaum.

Nun sehn' ich mich nach Traumesmai,
Nach Deinem Liebesoffenbaren.
Möchte an Deinem Munde brennen
Eine Traumzeit von tausend Jahren.
[ 2 pages, circa 2' 30" ]
---

Else Lasker-Schüler

...Then came the night with your dreams
In the silent burning stars.
And smiling day moved past me,
And wild roses breathed hardly at all.

Now I see myself after the dream of May,
After revelations of your love.
I would burn upon your mouth
In a dream of a thousand years.
gb

The text was first published in Styx, Berlin, Axel Junker Verlag, 1902. With imagery of burning stars and burning on the mouth of the beloved, this could be a "fiery" setting, and yet for its reference to dreaming, ruhig durchaus is marked, "peaceful throughout," as the whole tone colors in polytonal, arching lines make lyric the setting's accompaniment. The form follows the stanzas of the poem, two strophes of slight variation for textual clarity and with a small interlude between.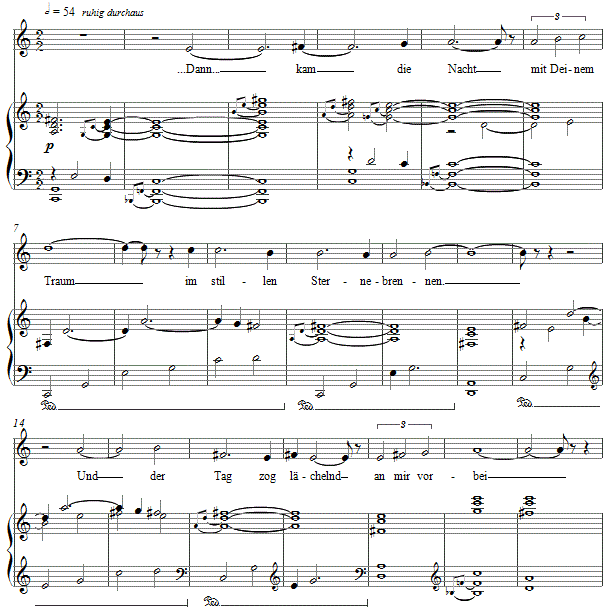 The score for Dann is available as a free PDF download, though any major commercial performance or recording of the work is prohibited without prior arrangement with the composer. Click on the graphic below for this piano-vocal score.