Bessie's Song to Her Doll - (2014)

Lewis Carroll
for mezzo soprano and piano
---
Matilda Jane, you never look
At any toy or picture-book.
I show you pretty things in vain--
You must be blind, Matilda Jane!

I ask you riddles, tell you tales,
But all our conversation fails.
You never answer me again--
I fear you're dumb, Matilda Jane!

Matilda darling, when I call,
You never seem to hear at all.
I shout with all my might and main--
But you're so deaf, Matilda Jane!

Matilda Jane, you needn't mind,
For, though you're deaf and dumb and blind,
There's some one loves you, it is plain--
And that is me, Matilda Jane!
4 pages, circa 2' 30"
---

The text comes from chapter five of Sylvie and Bruno Concluded, by Lewis Carroll, London: Macmillan and Co., 1893.

An ABAB form, lightly moving from tonic major to a Lydian coloration.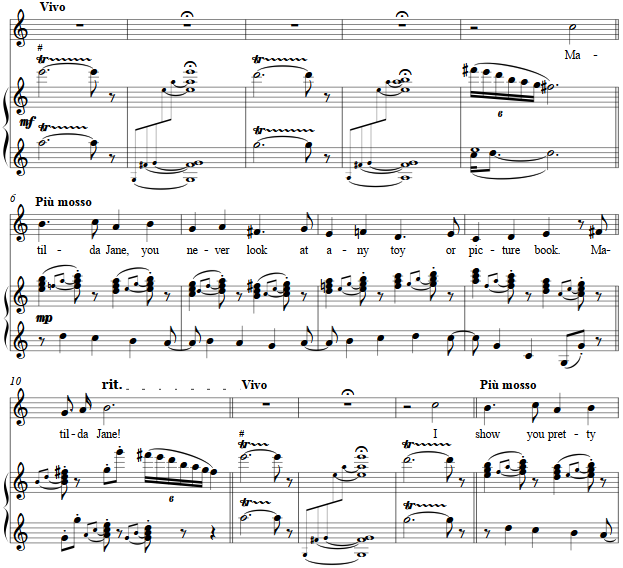 The score for Bessie's Song to Her Doll is available as a free PDF download, though any major commercial performance or recording of the work is prohibited without prior arrangement with the composer. Click on the graphic below for this piano-vocal score.