An Appreciation on the Occasion of My Brother's Passing

Gordon Bachlund (1933-2020)
In the eve of Christmas Eve, 2020, my elder brother Gordon Bachlund passed away peacefully from end stage renal failure, not quite eighty-eight years old.
Born in 1933, he was for some thirteen years the proverbial 'only' child, prior to our brother, Gregory (1946-1987) and me (b. 1947) joining the family. Our parents were musicians, and in the WWII years associated with many local artists and musicians.


Among them, Stephen de Hospodar painted an unsigned portrait of Gordon from a photo. Gordon recalled that the only way they kept him still was by allowing him to play with a toy airplane. And he did. De Hospodar also created a paper silhouette of him, dated 1944. The family homes were filled with original works by various local artists, no doubt contributing to creativity which Gordon exhibited throughout his life and varied pursuits. Music and art were the soil in which he was nurtured, all more so since choir rehearsals and voice coaching took place in our parents' homes.
He attended Los Angeles area schools, among them California Military Academy (founded in 1906) through 1947,

ending as Staff Sergeant. It featured an 8 acre campus with a full football field which doubled for baseball and as a parade ground with viewing bleachers. There were also a tiled swimming pool, basketball courts and a complete equestrian stable. All students were taught to handle a horse. The academy closed long ago. The property is now the campus for The Foundation for the Junior Blind. In addition to interest in horses, Gordon enjoyed Airedales, which were part of the family, and participated in the Cub Scouts of America.



Gordon developed many enthusiasms which grew throughout a long life. He spoke often about our grandfather, Carl Aldeen, who used to take him for long rides on the old interurban trolleys, or "red cars," as one line went down to Long Beach, a favored destination. Local park train rides also were a favorite as a child.
Gordon graduated from Los Angeles High School in 1951. Becoming an enthusiast for film and projection,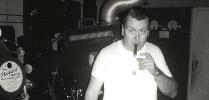 he acquired his first 16mm projector. Learning the craft of projection and changeovers, he worked as a substitute projectionist as a teen and young adult in the downtown "movie palaces," as they were known in a golden age of film. He became a member of the Society of Motion Picture and Television Engineers (SMPTE). Then he began work in engineering for our paternal uncle, Russell Wahlgren, at his new electrics firm in Pasadena. Technology was beginning to change the world, and Gordon's was on-the-job training.
Fortune smiled,
and in that time Gordon joined the upcoming firm, Daniel, Mann, Johnson, Mendenhall and Associates, as an electrical engineer. The young firm was known as DMJM, founded in 1946, then located on Wilshire Boulevard near MacArthur Park. The folks had a painting from that time of the park by a local artist, Inez Tidwell, which is still in the family. For a number of years Gordon built his career in engineering in Los Angeles. It was a good time to be alive for a young professional, enjoying the finer things.
In the late 50s, Gordon also served in the Montebello Police Reserve and the Los Angeles County

Sheriff's Department, Emergency Reserve, Company No. 9. At that time that the Viet Nam war was beginning in earnest for the United States. Because of this work and the death in that year of our father, Gordon senior who had become blind a number of years earlier, Gordon did not serve in the military in Viet Nam. Rather he was a pillar of support to our mother and his younger brothers, and in this time he also honed his enthusiasms for film, firearms and music. I recall that at our father's funeral, Gordon was soloist along with one of Dad's prize-winning students.
As our parents were musicians associated with the Southern California Council of Churches, its Church Federation, and Temple Guild of Organists, we three 'boys,'

two as trebles and Gordon as the adult, served in a men's and boys' choir at St. Paul's Cathedral under the musical guidance of organist and choirmaster, Frank K. Owen. For many years we sang together in that choir, a paid ensemble albeit paid 'minimally.' A brochure from that time notes, "At St. Paul's, the sound of traffic is confounded by the sound of music. Throughout the week, boys studying at the noted Cathedral Choir School can be heard practicing the songs of worship… An eavesdropper, approaching the practice room, listens to the singing which may suddenly stop as the headmaster cries: 'Flat! Flat! All right, boys, let's try it again!' And the sacred music begins once more. Steadily it lifts its way into the morning air in a ringing tribute to all that is positive." In the photo above, Gordon sits second from the right in the back row. In the photo below of the assembled choir, he is in the top row at the far left, behind Frank Owen. After the short-sighted demolition of historic St. Paul's Cathedral, he cherished memories of the building, and especially of the organ, in photos on the wall in his office, its own memorial to the transitory nature of things.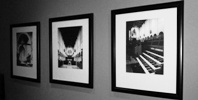 Gordon's deep interests included railroading, as we brothers together built an HO scale layout together at the Wilton Place house over some years, and an interest in both scale models such as are run at Travel Town and Los Angeles Live Steamers in Griffith Park. He built from scratch an O scale interurban, among other pursuits.
The Viet Nam war was ongoing when Gordon went to Saigon originally for only a few months, consulting for the US Army contractor. That became a stay of four years or so. In that time and in parallel with his electrical engineering work, he began forming a choir. Gordon himself wrote of this time: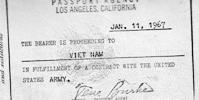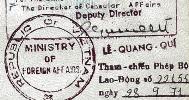 "In mid 1966 the US Army Headquarters Area Command Chaplain made arrangements with the clergy at Saigon Cathedral to utilize the facilities of the Cathedral for English language Masses, and thereby to serve the religious needs of English-speaking Catholics in the downtown area. To enhance the worship, a choir was formed, largely of American military men living at the
adjacent Brink and Rex BOQ's. This choir sang hymns and a program of carols for the Christmas 1967 Mass. In early 1968 volunteer membership swelled with the addition of women, and the first sung Mass in English in the Cathedral was celebrated at Easter. Gradually, divisi singing was introduced enabling the choir to lead in the hymns and sing a Communion motet or anthem every Sunday. The sung Mass of Christmas 1968 employed a brass quartet and timpani, and provided a festive atmosphere for the celebration of the commemoration of Christ's birth! Early 1969 saw a decline in sopranos, which led soon to the addition of Vietnamese children, mostly boys. Easter and Christmas 1969 were equally festive owing to the employment of brass and timpani.
"Arrangements to have the choir lead the singing at the 9:00am Masses at Queen of Peace Church

were begun in early 1970,.and the first Sunday after Easter saw the choir singing two services every Sunday. Later in the year a most generous grant from the Chaplains enabled the choir to purchase vestments for use at the Cathedral services, and, after some hesitant first steps, wo
rshippers at the Cathedral were given the treat of a choir processional and recessional every Sunday.
"Thus, the choir presently sings at Queen of Peace Church at 9:00am and at the Cathedral at noon every Sunday, though not al members sing at both services. Rehearsals are held at the apartment of the director every Saturday: from 6:00pm to 7:00pm for the children, and from 8:00pm to 9:00pm for the adults. It is hoped that you will feel welcome, and that you will participate with us as fully as your schedule will permit.
"While our purpose is leading congregational singing and providing tasteful and inspirational music during our worship services, we have additionally given sacred music concerts at least twice yearly since 1969. For most of these concerts we have had the support of other singers and, happily, other church choirs. A brief recap of the concerts we have done would include:
"The REQUIEM of Gabriel Fauré, performed in Lent 1969, 1970, 1971, and 1972;
"The ST. CECELIA MASS of Charles Gounod, performed in Fall 1970, 1971, and 1972;
"The MESSIAH of G. F. Handel, performed at Christmas 1971 and 1972, both times with organ, harpsichord and chamber orchestra.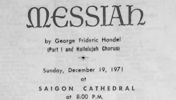 The New York Times article was titled, "Children Sing Requiem in Land of Unrest"
"Additionally, our choir has joined forces with other groups to present concerts of sacred and secular music. A notable example was Theatre 70's production of the children's opera HANSEL AND GRETEL at the National Conservatory of Music, in which our choir children formed the chorus, and men of our choir were involved technically in the staging and lighting.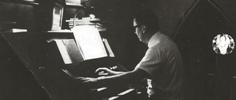 "We feel we have pioneered in the matter of ecumenical musical activities, for we have enjoyed the participation and cooperation of other Christian churches in many of our endeavors, the most spectacular of which was an ecumenical Service of Prayer for Peace, Brotherhood and Christian Unity held at the Cathedral on 27 June 1971, and involving the American and British ambassadors and the Commander of MACV as lay readers, Protestant and Catholic civilian clergy and chaplains, Archbishop Binh, and the combined choirs of St. Christopher's church, several military chapels, the International Protestant church, and a Vietnamese student group. While it was a monumental task to assemble these resources and effect a smooth and devotional service, it was well worth the effort, especially as the notes of the anthem, a tudor motet sung a capella, rang through the vaulted Cathedral and echoed an affirmation of joint resolve toward the ends of peace and brotherhood. It was a fitting farewell to the Anglican priest-in-charge at St. Christopher's, the Rev. M. J. R. Counsell, who had done so much for ecumenical cooperation in music.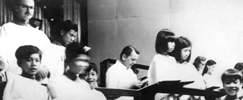 "As members of the International Community in Saigon, we feel we have accomplished a great deal in our scant five years of association and with our diverse membership toward establishing a tradition of varied sacred music of the highest possible perfection, given the resources at hand. The military establishment has given over $2,000 since it first offered to assist with the rebuilding of the Cathedral pipe organ, and this has enabled us to acquire vestments, to upgrade the PA system in the Cathedral, and to rework Vietnam's only functioning pipe organ. Additionally, the director has given nearly $1,500, the cost of two new sets of organ pipes, and supports the choir financially by paying an honorarium to the children and the adult soloists. But, despite these considerable sacrifices of time and money, it is the volunteer members of the choir on whom we most heavily rely for our musical sustenance. When our ranks are full and our members arrive on time and are well prepared through participation in the rehearsals, the enhancement to our worship through song is firm, hearty and encouraging to the timid souls in the pews who may be wont to join in the song, and an inspiration to all who worship with us. However, when our ranks are lean and our members less than punctual, our enhancement of the worship services lacks vitality and strength. To make the most of our participation, we actively seek new members, hoping that, the more members we have, the less a few will be missed when circumstances dictate that they must miss our services.



"We sincerely hope you will join with us and participate with us. We can promise that you will have fun, you will not die of thirst during or after a rehearsal, and that you will be most welcome at either or both of the churches we serve."

During his time in Viet Nam, he made many friends; in particular he mentored a young man who both worked in the household and sang in the choir, Allen, was 'adopted' without formal paperwork and whisked away from Saigon, as the fall of the city and end of the war in 1975 would have been life-threatening for him. Allen lived a while with our mother in Los Angeles and attended Los Angeles High School. Then Gordon moved him to a new home in Monrovia, where Allen brought his wife, Gina, and there had their daughter. And Gordon became "Grandpa" to Lucie. Allen went on to have a fine career with the Los Angeles Sheriff's Department complete with various awards, retiring only recently.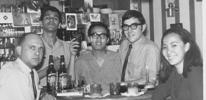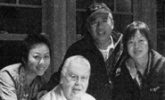 Reminiscing in a letter dated 8 March 1973, Col. William O'Connor wrote: "It was so good to hear from you that you got Alan (variant) out of Saigon and home. Does he like it after Saigon and all the war years?" O'Connor, who became Monsignor in the Dioceses of

Hartford, included his recommendation, "For a period of one year, while stationed in Saigon, I had ample opportunity to closely observe his organization and leadership abilities with a large choir of many nationalities at the Cathedral of Our Lady of Peace, Saigon. It was my pleasure also to attend concerts arranged in the Cathedral and produced by Mr. Backlund [sic] comprised of singers and musicians of several nations. His taste is impeccable and his arrangements are innovative and creative. His probity and moral character are beyond reproach and his dedication and devotion are of the high order of his professional abilities and intellectual capacity."
Of Gordon, Chaplain Maj. Robert R. Kleinworth wrote in 1973 of "an outstanding choir... [which]

can only be appreciated if one understands the difficulties under which Gordon Bachlund worked. In Saigon, the Cathedral area was frequently the target of communist rocket attacks. The members of this choir consisted of young Viet Namese school children and adults plus American civilian and military personnel who practiced together during the few hours free time available to them. At Mr. Bachlund's own expense the beautiful pipe organ in the Cathedral was repaired."
The end of the story for the organ is sad, yet predictable. After the end of the war, it fell into disrepair and was scavenged. One of the young men in the choir, Huong Nguyen (below, as a youth and in a recent visit to Monrovia), now a a retired gentleman living in Orange County, informed Gordon, last year, "Fr Khánh said that currently the pipe organ is completely ruined. The keyboard is lost (may be stolen, as he believes it is made of ivory), all wooden parts rotten, many pipes have holes or stain. Early in the 2000s, a Consular from the French Consulate General who was interested in pipe organs had come to take a look at the organ. He said that in that condition, fixing the organ would be much more costly than buying a brand new one. Fr Khánh said that there is a plan to remove the existing parts of the pipe organ to The Pastoral Center of the Archdiocese of Saigon to save room on the choir loft for other purposes. In other words, the pipe organ of the Saigon Cathedral had seen the end of its long years of services but not very well used."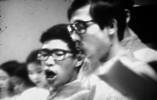 Returning to the states at the end of 1973, Gordon continued his engineering career, first with TRW as Section Head for Electrical Power Systems, and then worked with Ralph M. Parsons, before coming to Boyle Engineering in Newport Beach, as Electrical Department Manager, Project Manager and Qualified Technical Reviewer until his retirement. While on assignments, he lived in the Georgetown area of Washington, D.C. and in South Dakota, with shorter assignments in other locales. In 1980, he was registered in California as a Professional Engineer in Control System Engineering. With that, additional consulting throughout the Southland was done.
But his passion for music did not diminish. First at St. Paul's Church, a Catholic parish on Washington in Los Angeles, he directed a music program complete with service music, choral concerts and organ recitals. He was supported by the very fine Bishop Thaddeus "Ted" Shubsda (pictured below). Choirs from other churches also were invited to participate. Among them was St. Rita's, through the friendship with Father (later Monsignor) Richard Krekelberg. At St. Paul's, organ concerts were given by many members of the local American Guild of Organists, including Frank Owen, E. Robert Kurzinski and William C. Beck. Thereafter, Gordon moved on to serve as choirmaster for St. Frances de Sales, in Sherman Oaks, with Pastor Father Larkin and organist Steve Park, until he retired from church music as an avocation.




While continuing his career in engineering, Gordon also immersed himself in his long-standing passions of trains and film, and progressing logically to railroading and film together. Among the associations for railroading, he participated in the Orange Empire Railroad Museum in Perris. His friend of many years, Alan Weeks, recalls of that time, "...I soon found Gordon to be a born leader. You could ask a question on any subject and Gordon had the answer. On any Railroad you will have mini crises but Gordon remained unflappable." Alan added on a reflective note, "Life is a one way street and no turning back. At 88 I know I am running out of Trolley Wire."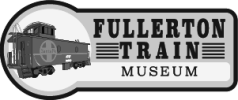 What of railroading, if not to have one's very own? Gordon did just that, up from the HO model payout of decades earlier. At Los Angeles Live Steamers and similar clubs, this electrical engineer specializing in high voltage and control systems PE was also his own engineer of his very own scale model locomotive.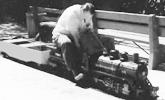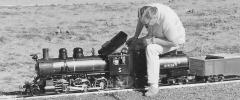 As with all graduates, one rises to the next level. So did Gordon, working with Travel Town Museum in Los Angeles for many years as Chief Mechanical Officer, then with the Southern California Scenic Railway Association (founded 1984), as president and Mechanical Superintendent, thereafter with Southern California Railway Plaza Association, and Fullerton Railway Plaza Association as they worked to celebrate railroading for the general public. Friends included Paul Hammond, now director of the Colorado Railroad Museum and formerly head of the California State Railroad Museum. Gordon wrote, "I was fortunate to have as traveling companion a friend of over twenty-five years standing, Paul Hammond of the California State Railroad Museum Foundation. Paul's Craftsman home in Sacramento boasts a full and varied wine cellar, and Paul is every bit a gourmet. I, for my part, have similar aspirations, though my cellar is tiny by comparison. Inasmuch as Paul and I enjoyed some excellent meals during the FRPA rail tour, I am taking the liberty of recording these experiences, partly for your amusement and partly to show that even a managed tour can boast culinary adventures of a high order." In "The Grande Colorado - New Mexico Rail Tour, A Galloping Gourmet's Perspective," Hot Rail!, Issue II, Number 2, Fall 2004. From toys to scale models to "the real thing" was one more of life's adventures.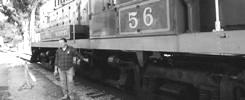 Paul Hammond also assisted with the "Movie Nights" at Fullerton. And for his many friends, he was a part of 'movie committees', projecting films involving railroading in some way, in the company of good friends like Sue Kientz, Dennis White, Jim Hoffmann and so many other helping hands in a very long list. One recalls that wine tasting flavored the railroad-themed movie nights.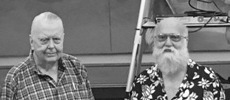 With Jim Hoffmann, Gordon and he spent some time projecting historic silent film -- carbon arc projection, itself historic -- for San Diego Symphony concerts, some with orchestra and some with theater organ accompaniment. The Copley Hall was a perfect venue for this marriage of traditions, although Gordon remembered later the number of stairs necessary to climb to the projection booth. Time has its way with us.

The confluence of life interests led to the remodeling of his Monrovia home to include its very own "Kino," a German word for cinema, in an outbuilding on the property. For the Kino, Gordon obtained 16mm and 35mm projectors, a 12-foot wide screen and Dolby digital sound, as well as a theater organ for the fun of it. I recall us constructing the projection booth, its risers and properly aligned glass ports, heaving the projectors up onto the risers to align all properly. Gordon's good friend and film technician par excellence, Tim Dulin, brought in upgrades, and another equally good friend, Gordon MacLeod (pictured below at the console) assisted with the electronics and sound refinements. Many film buffs, including collectors George Wagner and Robert Simonton, as well as filmmaker Paul Bunnell, and projectionist Paul Rayton (Egyptian Theater) joined in the camaraderie of showings and dinners gathered around Gordon's table. This was a time in life to enjoy.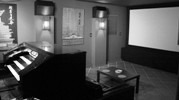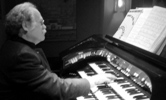 With the construction of a home cinema, so popular to collectors of "reel" film, he published a website dedicated to the collecting and preservation of film, projection technology and history.

Gordon enjoyed visits from family and friends, visits to other theaters and concert venues. Among these was a visit to the Walt Disney Concert Hall and its renowned organ, through the courtesy of Manuel Rosales, master organ builder and our friend over many decades.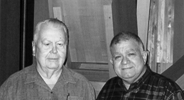 Among the many good musical friends made around the world as in the Southland was one of the "last remaining" silent era theater organists, Robert Mitchell (1924-2009). His final performances downtown were deeply appreciated. My brother and wife, Marilyn, celebrated with him at a favorite Los Angeles area restaurant, El Cholo. Gordon's circle of friends also included many in various aspects of film and projection. We toured the Billy Wilder Theater run by UCLA, and its manager, Jim Smith. Later in life, Gordon was even best man for his good friend's Tim Dulin's wedding in Las Vegas, complete with non-characteristic formal wear, especially that non-characteristic boutonniere about which we chuckled. One does for one's friends.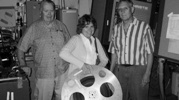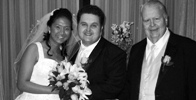 "Bachlundhaus," a bi-lingual word play among the many which amused my brother, was turned into a logo and a work of stained glass which went with him in his moves, and now graced the "speakeasy" of what we call Mountain Manor. It is indicative of both his humor and his hospitality. Family and close friends, who have visited, dined at his table and enjoyed music and film at his Kino, know this and therefore know him.

As to that sense of humor, Gordon had printed a "visiting" card with the following declaration: "Persona non grata, orthoëpist, lexicographer, etymologist, semanticist, phoneticist, polyglot, sesquipedalian, and "Founder of the Gordon R. Bachlund Institute of Human Relations Up to a Certain Point and How to Keep Them at that Point." And a "ex libris" label which he placed in some of his dearer books drew from an earlier humorist: "I give humble and hearty thanks for the safe return of this book which having endured the perils of my friend's bookcase, and the bookcases of my friend's friends, now returns to me in reasonably good condition. I give humble and hearty thanks that my friend did not see fit to give this book to his infant as a plaything, nor use it as an ash-tray for his burning cigar, nor as a teething-ring for his mastiff. When I lent this book I deemed it as lost: I was resigned to the bitterness of the long parting: I never thought to look upon its pages again. But now that my book is come back to me, I rejoice and am exceeding glad! Bring hither the fatted morocco and let us rebind the volume and set it on the shelf of honour: for this my book was lent, and is returned again. Presently, therefore, I may return some of the books that I myself have borrowed." (In "The Haunted Bookshop," by Christopher Morley, Philadelphia, 1919). He often recited portions of the Rubáiyát of Omar Khayyám in the Edward FitzGerald 1859 translation, which he loved. "For some we loved, the loveliest and the best / That from his Vintage rolling Time hath prest, / Have drunk their Cup a Round or two before, /And one by one crept silently to rest."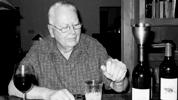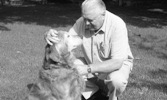 On that note, in order to have a better understanding of our paternal grandparents, about whom we knew relatively little, we visited Kingsburg. He was curious, as was I. We found the gravesite, with proper Swedish variant spelling of the name. We learned some things which were new and reconstructed some tales from the family's past, which will now lie still as Gordon's beloved Rubáiyát text reminds, as above.

Gordon leaves many friends and family, and with them many memories of a full and vital life, filled with good things: art, music, film, railroading, the joys of food and drink, and the enjoyment of life itself. As he often paraphrased comedian Jackie Gleason, one prays and laughs "how sweet it is." And so it was.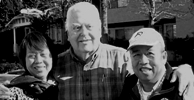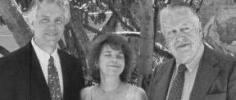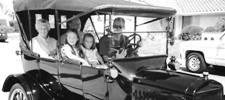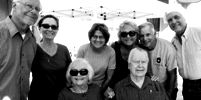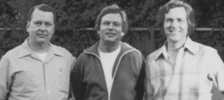 A musical memoriam for my brother: Chromatic Fantasia and Fugue in D minor