A Windy Day in Summer - (2015)


Gerard Manley Hopkins
for medium voice and piano
---
The vex'd elm-heads are pale with the view
Of a mastering heaven utterly blue;
Swoll'n is the wind that in argent billows
Rolls across the labouring willows;
The chestnut-fans are loosely flirting,
And bared is the aspen's silky skirting;
The sapphire pools are smit with white
And silver-shot with gusty light;
While the breeze by rank and measure
Paves the clouds on the swept azure.
4 pages, circa 3' 30"
---

Gerard Manley Hopkins
The text comes from in "Unfinished Poems, Fragments, Light Verse & c." (1862-89), "The Poems of Gerard Manley Hopkins," Fourth Edition, ed. by Gardner and Mackenzie, Oxford University Press, 1970. W. H. Gardner, one of his editors, writes In "Introduction to the Fourth Edition": "Hopkins dies in 1889, having seen none of his own verse in print except a few early poems, three comic triolets, and Latin versions of an epigram by Dryden and two songs by Shakespeare." Thus Hopkins work is testimony not only to the art of writing but to the diligence to create, even without public adulation or commercial success. It is an exemplary and enduring lesson for artists to persevere.

The text speaks to "gusty light" in the colors of blue, silver and white blended with the textures of silk and cloud. A rushing gesture -- a gust -- yields to longer, more sedate harmonic motion, before a next gust breaks in. A center section in a simple, measured step captures the easy movement as the voice lyrically sings the text.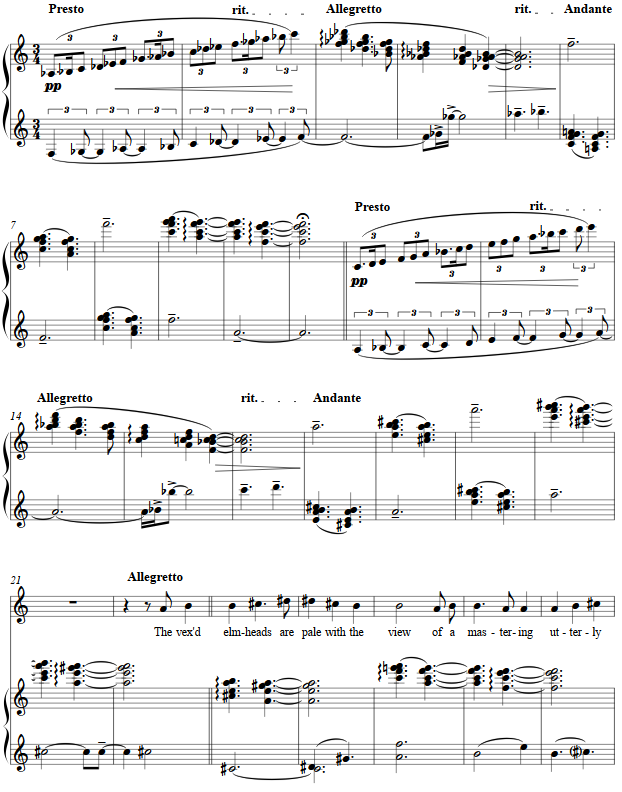 The score is available as a free PDF download, though any major commercial performance or recording of the work is prohibited without prior arrangement with the composer. Click on the graphic below for this piano-vocal score.